Baked Yogurt Tart Recipe with Figs & Blueberries Recipe(With Eggless Recipe Option)

Monika Manchanda
On

Friday, 25 September 2015 00:37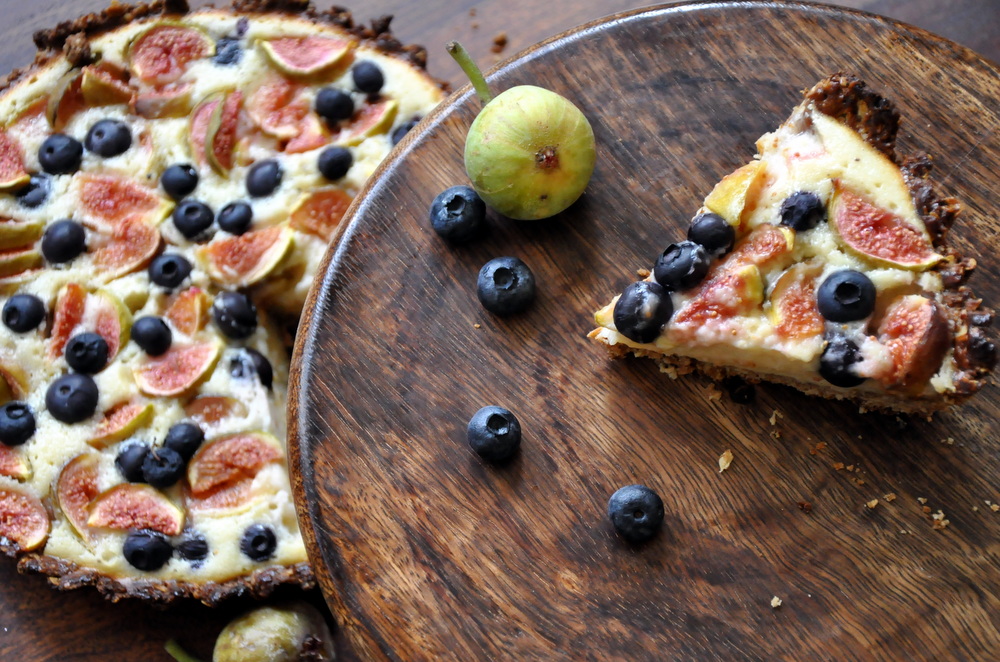 Baked Yogurt Tart Recipe with Figs & Blueberries is an excellent dessert option to choose when you want something wholesome, but avoid the calories. This is a relatively guilt-free version of a custard tart -- the base is fortified with the goodness of oats and the filling has yoghurt, making it creamy and luscious, studded with fruits like figs and blueberries.What's more, it also includes an eggless (egg-free) version to take the health quotient further up.
Serve the Baked Yogurt Tart Recipe with Figs & Blueberries Recipe(With Eggless Recipe Option) up at tea-time or at your next dinner party.
If you are looking for more Tart recipes here are some :
Note: If fresh blueberries are not available, dry can be used.
I have used 9 inch Pie Pan.
Ingredients
Ingredients for the Oat Crust
1/4 cup

Brown Sugar (Demerara Sugar)

1 cup

Instant Oats (Oatmeal)

, powdered
1 cup

All Purpose Flour (Maida)

1/2 teaspoon

Baking powder

1/2 teaspoon

Salt

100 grams

Butter

, chilled, finely chopped
1

Whole Egg

, beaten for basting (or honey and milk)
Ingredients for the Yogurt Filling
1/4 cup

Icing Sugar

see below for egg free
2 cups

Hung Curd (Greek Yogurt)

1 teaspoon

Vanilla Extract

1

Lemon zest

1 cup

Fresh Figs

, chopped
3/4 cup

All Purpose Flour (Maida)

1/2 cup

Blueberries

1/2 teaspoon

Nutmeg powder
How to make Baked Yogurt Tart Recipe with Figs & Blueberries Recipe(With Eggless Recipe Option)
To begin making the Baked Yogurt Tart Recipe with Figs & Blueberries, we will first make the crust

Grease a 9 inch Pie Pan with a detachable base with butter and keep aside.

In a large bowl, mix together the flour, powdered oats, baking powder, salt and sugar. Add the chilled butter to the flour mixture. Use your hands and bring together to make a coarse crumb mixture. Add a tablespoon of chilled water at a time and bring together all the crust ingredients to make a firm dough.

Knea for about 5 minutes. Wrap the dough in a cling wrap and refrigerate it for about 1 hour. This process helps in getting a flaky crust for the pie.

After an hour, bring the dough out, place it on the well dusted and floured platform. Roll the dough out to fit the pie pan.

Once rolled out, lift and place the pie crust dough on the pie pan, press it down and once again refrigerate it for about 20 to 30 minutes. In the meanwhile preheat the Oven to 170 degree Celsius.

After about 20 minutes, prick the crust with fork all over and place the crust in the preheated oven. we will prebake the oat pie crust for about 15 mins. After about 10 minutes of baking, remove the crust from the oven and brush it with one egg(honey or milk) and put it back in the oven for about 7 mins till it looks set and all shiny. You will notice that the crust has a golden brown and is crisp from the edges.

Note: If you don't want to use the egg, then you can mix a tablespoon of milk and honey and using a brush, smear it all over the crust. This process will also give the crust a light golden finish.

Once the oat pie crust is baked, remove it from the oven and allow it to cool completely.

We will now proceed to prepare the Yogurt filling for the baked pie crust. In a large bowl, beat the eggs and sugar for 3 to 4 minutes till pale and thick.

Gently fold the yogurt mixed with zest, vanilla extract, nutmeg powder into this until well combined.

Sieve the flour into the yogurt mixture gradually in three batches, folding it while you go along. Take care not to over beat the yogurt, as it will have a tendency to become thin.

Once the flour is combined well, pour the mixture into the pre-baked tart, arrange the fruits in the center and put it back into the oven to bake at 170 C for about 30 to 35 minutes till the edges start to turn golden brown and the mixture looks set.

When you shake the pie pan, you will notice only the center wobbles a little but over all the pie will be set.

Once you notice this, remove the pie from the oven and cool completely.

Once the pie is cooled, refrigerate the pie for at least 6 hours before you are ready to serve.

Note: If you plan to make this eggless (egg free), then omit the egg and the baking process after that.

Combine the yogurt, sugar, vanilla, nutmeg powder along with 2 teaspoons of agar agar or gelatine (dissolved in very little water). Add the agar agar mixture to the yogurt and combine it well. Pour the mixture into the prebaked tart crust, top it with fruits and refrigerate until it is set. Once it is set the pie is ready to be served.

Serve the Baked Yogurt Tart Recipe with Figs & Blueberries Recipe(With Eggless Recipe Option) up at tea-time or at your next dinner party.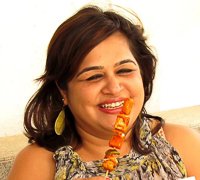 Monika is ex-IT person turned into a Food Blogger, Consultant, Home Baker and an Amatuer Food Photographer. From one role to many, she feels it's been an exciting journey. She is also the author of the hugely popular food blog "Sin-A-Mon Tales" in which she shares her reviews, recipes and food stories from her travels and childhood. She also writes for many online websites and publications. She is also an avid reader, an obsessive traveller and is always looking for food history and culture.