Balinese Black Rice Pudding Recipe
Balinese Black Rice Pudding Recipe is a delicious dessert from bali as the name suggests. The variant of black rice used in this pudding adds to the texture and then combining it with coconut milk, sweetened with palm sugar and flavoured with pandan leaves, is a burst of tropical flavours in your mouth.

Neeru Srikanth
On

Saturday, 08 October 2016 00:12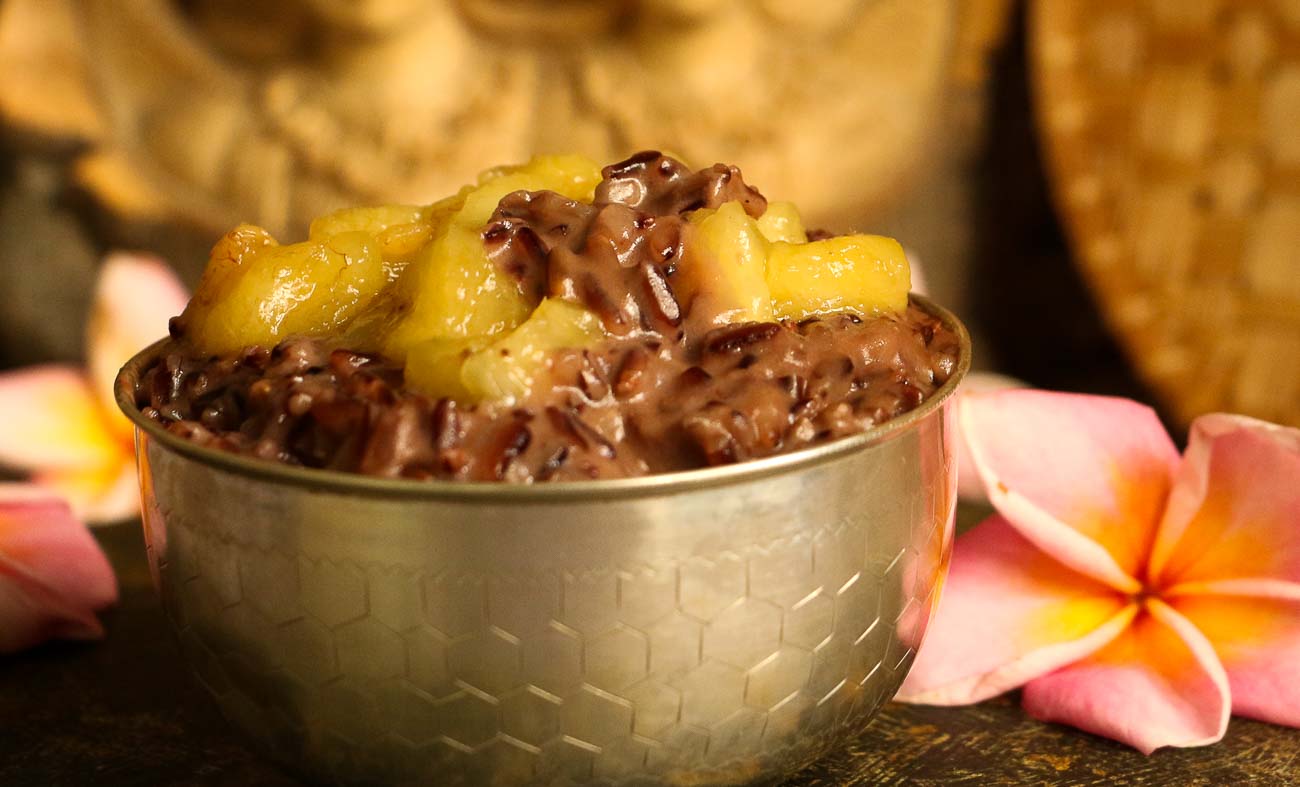 Balinese Black Rice Pudding is a wholesome dessert from Indonesia made from black rice cooked in coconut milk. The rice pudding is prepared by using the black glutinous rice which is blended with coconut milk, Pandan leaves(optional), Gula melaka ( Palm Sugar) and is garnished with a dollop of coconut cream and banana slices giving us this drool worthy pudding.
The Black rice pudding is a very good option for all the vegan lovers also. It is a must to soak the black rice for a minimum of 6 hours or over night else they will never get cooked so easily. Pandan leaves are optional and they give a nice flavor to the dish. The banana must be ripened to get a good taste. Since Indonesia is the iconic place for growing rice paddies, the black rice pudding forms a major part of Balinese delicacy.
Serve Balinese Rice pudding as a dessert after a simple Asian meal of Vegetarian Thai Red Curry and steamed rice.
If you looking for more black rice recipes, here are some of our favourites
Ingredients
1/2 cup

Black Rice

1 cup

Coconut milk

1 1/2 cups

Water

2 tablespoon

Palm sugar

Salt

, to taste
For Garnish
1

Ripe Bananas

1 tablespoon

Palm sugar
How to make Balinese Black Rice Pudding Recipe
To begin making the Balinese Black Rice Pudding, wash and soak the black rice with water for 6 hours.

In a heavy bottomed saucepan, cook the rice with coconut milk, water and salt to taste in a vessel on high heat and once it starts to boil bring it to low heat.

Keep cooking until the entire liquid is almost absorbed in the rice and the rice gets cooked evenly. It's fine to leave a little bit of liquid as the pudding will continue to thicken once it starts to cool.

Add 2 tablespoon of palm sugar at the end and check for sweetness.

Slice the banana and coat it with palm sugar on a pan for 10 minutes and keep it ready before serving.

Just before serving drizzle with coconut milk and add the sliced bananas and serve Balinese Rice pudding hot or cold.

Serve Balinese Rice pudding as a dessert after a simple Asian meal of Vegetarian Thai Red Curry and steamed rice.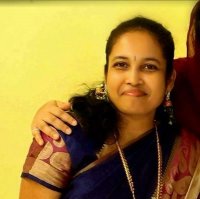 I am an IT professional for the last 15+ years and currently residing Singapore. I have recently taken a break from mid of June 2016 to pursue my passion. Cooking and food styling is my passion & my stress buster. I am also interested towards exploring vegetarian traditional & fusion cooking from all cuisines. Hence I decided to go one step further to explore and document my passion from 2016.