Broccoli Pesto Open Toast Recipe
Broccoli Pesto Open Toast, a delicious open toast which can be served for house parties, tea parties or even for your weekend brunch. Its packed with flavour and nutrition from broccoli and basil leaves making it absolutely delicious.

Archana's Kitchen
On

Thursday, 30 April 2015 00:35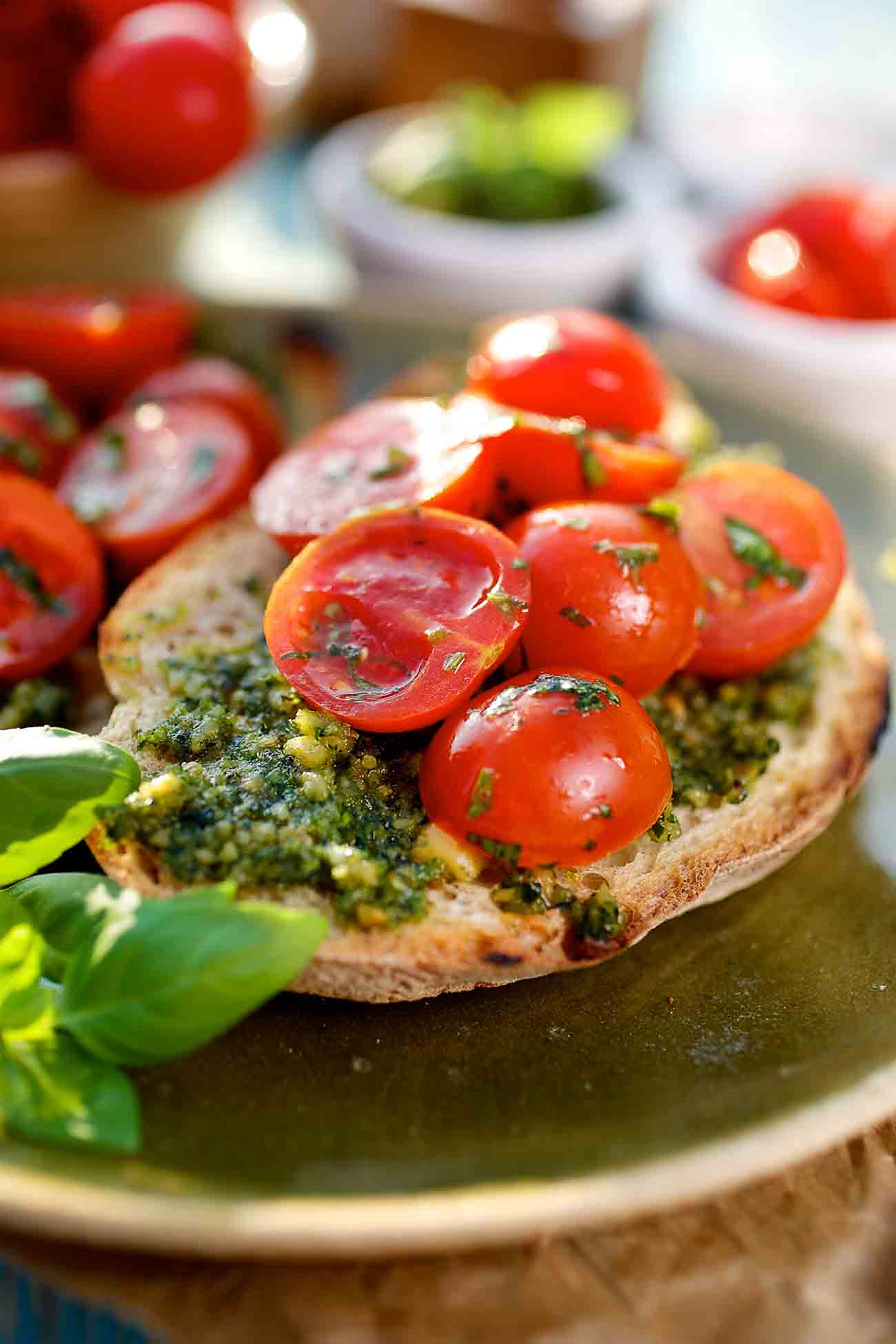 Broccoli Pesto Open Toast Recipe is an incredibly versatile way to mimic mini-pizzas, whip up quick snacks and work with bits and bobs that are left in your refrigerator. If you have a few basics stocked up in your fridge – like pesto, pizza sauce, bread, cheese then you can prepare open toast in few minutes.
This recipe calls for pesto made with the addition of broccoli, it blends in beautifully in the pesto in terms of taste and health. These open toasts make excellent evening snacks for the kids or serve them as a party appetizer. Alternatively, you can use a whole-meal bread, add a salad or pasta serving on the side and turn it into a full meal too.
Serve Broccoli Pesto Open Toasts hot along with Potato and Chickpea Salad for quick weeknight meal.
If you like this recipe, you can also try other Open Toast Recipes such as:
Ingredients
Ingredients for Broccoli Pesto
200 grams

Broccoli

, stalks removed
1 cup

Basil leaves

1/3 cup

Extra Virgin Olive Oil

Salt and Pepper

3 cloves

Garlic

1/3 cup

Parmesan cheese

, or cheddar cheese grated
8-10

Whole Almonds (Badam)

, blanched and peeled
Ingredients for Open Toasts

Broccoli Pesto

, needed
1

Baguette

, sliced (or 6 - 8 slices of whole wheat bread)
1 cup

Cherry tomatoes

, halved
1-1/2 teaspoon

Italian seasoning

Salt and Pepper

1 teaspoon

Extra Virgin Olive Oil
How to make Broccoli Pesto Open Toast Recipe
To begin making the Broccoli Pesto Open Toast we will firstly make the pesto.

Bring a pot of water to a rolling boil, turn off the heat. Place the broccoli in a large sieve and lower it into the boiled water, leaving it there for about 2-3 minutes. You want the broccoli to soften, but not cooked. Remove broccoli from the water and rinse with cold water. Keep aside in a bowl until required.

In a food processor, grind the garlic and almonds with a little bit of salt. Add the blanched broccoli, basil and grind once more into a coarse paste.

Add the cheese and olive oil to the paste in small quantity at a time and grind once again till you get a smooth pesto.

To make the topping for the open toast, heat olive oil in a pan over medium heat. Add the sliced onions and saute till they turn soft.

Season with mixed Italian herbs and saute for few seconds. Turn off the heat. Add the halved cherry tomatoes, salt and pepper, stir to combine. You want the tomatoes to absorb the flavours but not get cooked completely.

At this stage you can choose to serve the Open Toast, chilled as it is or bake in in the oven. These toasts make great picnic snacks, where you simple spread the Broccoli Pesto and the tomatoes and serve.

Proceed with the steps below if you wish to grill and serve.

To assemble the toast, preheat your oven to 180 degrees C. Line a baking tray with the aluminum foil.

Arrange slices of bread on the sheet.

Spread the pesto generously on each bread slice. Top with the tomato mixture and if you desire, a little bit of cheddar cheese. Bake in the oven for 5-7 minutes until the bread is toasted.

You can grill the toast in the griddle pan as well. Heat a teaspoon of oil over medium heat in the pan. Layer bread slices with broccoli pesto and herbed tomato mixture. Sprinkle grated cheese on top of each bread slice.

Arrange bread slices in the hot grill pan and cook till bread slices are nicely toasted and cheese is melted.

Serve Broccoli Pesto Open Toasts hot along with Potato and Chickpea Salad for quick weeknight meal.