Coconut Tapioca Pudding Recipe with Spicy Strawberry Sauce
Coconut Tapioca Pudding Recipe with Spicy Strawberry Sauce

Archana Doshi
On

Thursday, 26 January 2012 17:11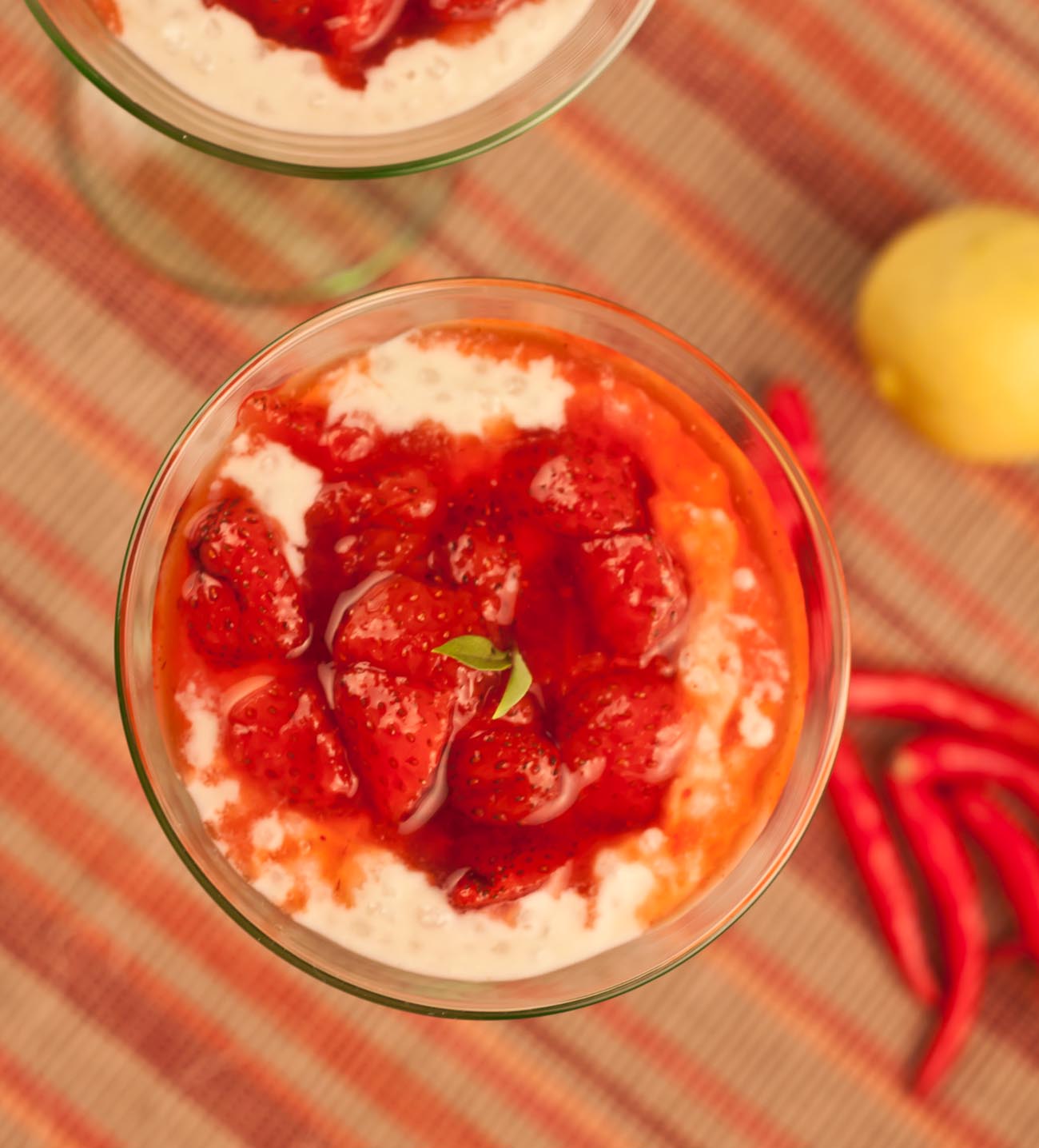 The Coconut Tapioca Pudding simmered in milk and sugar with a decoction of lemon grass and ginger topped with a spicy strawberry sauce is an absolute delicacy.
Serve this Tapioca Pudding along with the Spicy Strawberry Sauce as a dessert after an Asian meal of Vegetable Thai Green Curry, Jasmine Rice.
If you are looking for more Pudding recipes here are some :
Healthy Alternatives to Tapioca Pearls
1/2 cup of rolled oats or instant oats (cooked along with the pudding below)
1/2 cup of broken brown rice, soaked and pre-cooked
1/2 cup of cracked wheat, pre-cooked in water
Note: You can also top the Pudding with Fresh Mangoes or Cut fruits of your choice
Ingredients
Ingredients to make the Coconut Tapioca Pudding with Strawberry Sauce
1 tablespoon

Ginger

, peeled, chopped
5

Thai basil leaves

2 sprig

Coriander (Dhania) Leaves

1 tablespoon

Lemongrass

, sliced
1 cup

Water

1 1/2 cups

Milk

1/2 cup

Sugar

1/2 cup

Sabudana (Tapioca Pearls)

, soaked 4-5 hours
200 ml

Coconut milk

, unsweetened
For the Spicy Strawberry Sauce
1 tablespoon

Lemon juice

250 grams

Strawberries

, cut into cubes
1/2 cup

Sugar

pinch

Cayenne Pepper

Thai basil leaves

, for garnish
How to make Coconut Tapioca Pudding Recipe with Spicy Strawberry Sauce
We begin making the Coconut Tapioca Pudding Recipe with Spicy Strawberry Sauce by following the procedure
Method for the tapioca pudding
Combine the ginger, thai basil, coriander and lemon grass in food processor; blend until combined. Transfer the se ground ingredients to a medium saucepan; add 2 cups water and bring the mixture to a rolling boil.

Turn off the heat and allow the mixture to steep uncovered in the pan for about 20 minutes.

Pour the mixture into strainer set over heavy large saucepan; press on solids to release flavoured liquid into the pan below. Discard solids in strainer.

Add milk and sugar to flavoured liquid into a pan; bring to boil. Drain the tapioca from the soaked water and stir in soaked tapioca into the milk mixture; return to boil.

Reduce the heat to medium and simmer uncovered until the tapioca is cooked and the mixture thickens and is reduced, stirring frequently. Finally stir in coconut milk (pudding will be runny at this stage).

Transfer to bowl and allow it to cool completely.
To prepare the Strawberry Sauce
Toss strawberry cubes, sugar, lime juice, and cayenne in medium sauce pan bowl and set it over medium heat. The strawberries will begin to soften and give you juices.

Allow it to simmer for 5 minutes until the strawberry softens and turns a little sticky and thick. Turn off heat and allow it to cool completely.

Divide tapioca among 6 stemmed glasses or bowls. Top with spiced strawberry mixture; garnish with basil sprigs. Cover the coconut and taipan pudding with cling wraps and refrigerate overnight.

Serve the Coconut Tapioca Pudding Recipe with Spicy Strawberry Sauce pudding will simply makes the meal complete for the holiday Dessert party.