Idli Dosa Milagai Podi Recipe - South Indian Chilli Chutney Powder
A popular South Indian side dish or accompaniment that goes well with Dosas and Idlis. It is the best eaten with oil or ghee and made into a paste or chutney consistency which you can scoop up with idlis and Dosas.

Annapoorni Padmanabhan
On

Friday, 04 January 2013 12:57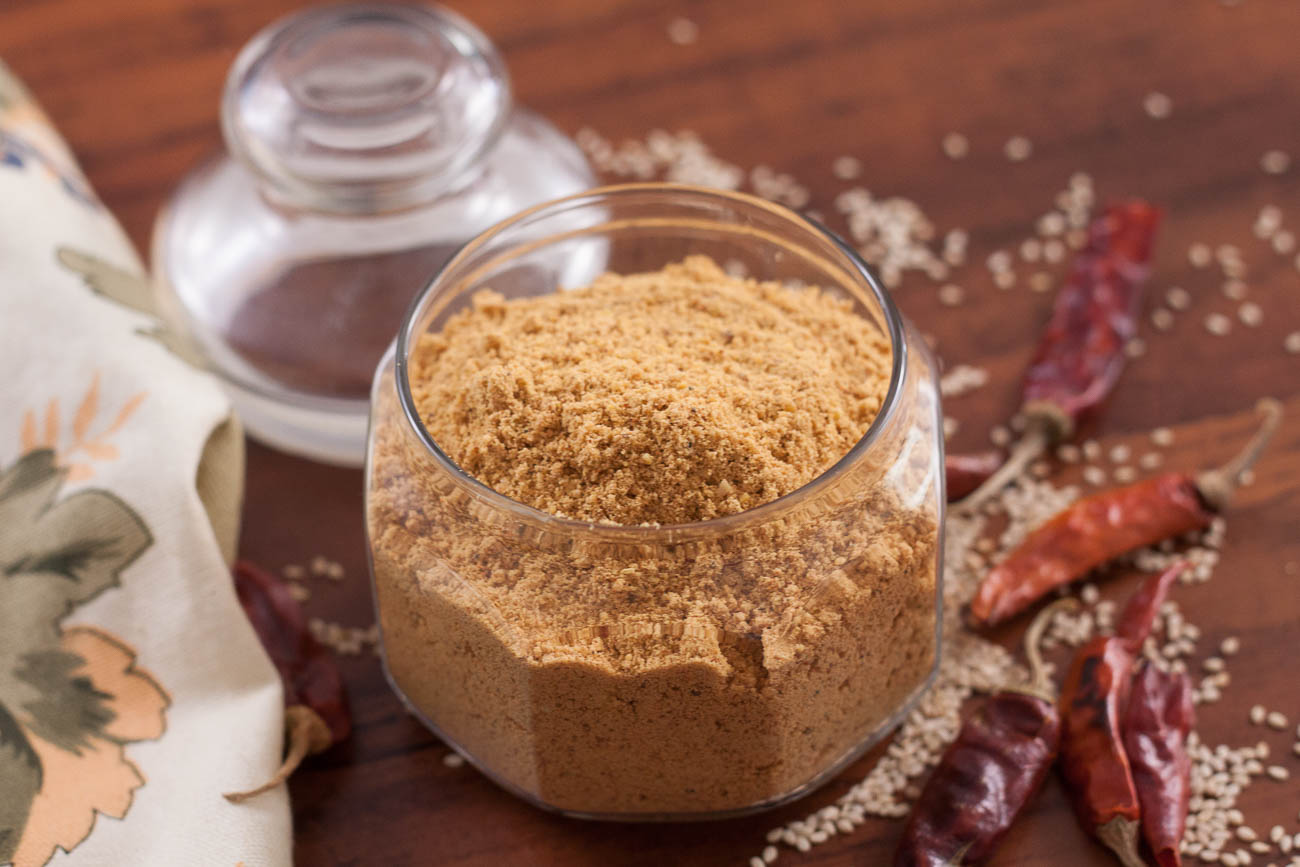 Idli Dosa Milagai Podi | Chilli Chutney Powder is traditionally used in south indian homes and served along with Idlis and Dosas. It is used as a substitute to chutneys or sambar to accompany breakfast dishes like idli or dosai. This powder stored in airtight container is multi purpose - can be used instead of chilly powder while making other vegetable curry also.
How to use the Idli Dosa Milagai Podi | Chutney Powder: Mixed a tablespoon of powder along with gingelly/vegetable oil and serve it as a dip along with idli and dosa.
Here are a few more podi recipes that you should keep in handy
Makes:

200 grams Servings
Ingredients
1 cup

White Urad Dal (Whole)

1 cup

Chana dal (Bengal Gram Dal)

1/2 cup

Sesame seeds (Til seeds)

2 tablespoons

Coriander (Dhania) Seeds

2 tablespoons

Red chilli powder

1 tablespoon

Asafoetida (hing)

2 tablespoons

Salt
How to make Idli Dosa Milagai Podi Recipe - South Indian Chilli Chutney Powder
To begin making the Idli Dosa Chutney Powder Recipe, in a heavy bottomed pan; roast the urad dal and chana dal separately on medium to low heat until lightly browned and crisp.

When you take a bite, the dals should have a crunch. Transfer onto a paper towel to cool and keep aside.In the same pan, roast the sesame seeds and coriander seeds until it sputters and transfer to a paper towel to cool and keep aside.

If you are adding the dry red chillies, roast the red chillies until browned and keep aside.Combine the roasted ingredients together in a large bowl and allow the roasted ingredients to cool.

Once cooled in a food processor grind all the ingredients in batches or together to form a coarse powder.

Finally stir in the asafoetida, salt and red chilli powder (if you used dry red chillies this would have been ground with the lentils).

A pure vegetarian from 'Singara' Chennai, was once a banking professional and now a full time mommy for my 4 year old brat ! Cant say am great in cooking but what ever and when ever I cook, I do it with lot of passion. I see this as an apt platform to know more and do more.