Israeli Couscous Minestrone Soup Recipe
One pot filling soup recipe with couscous, beans and vegetables

Archana's Kitchen
On

Wednesday, 16 January 2013 10:53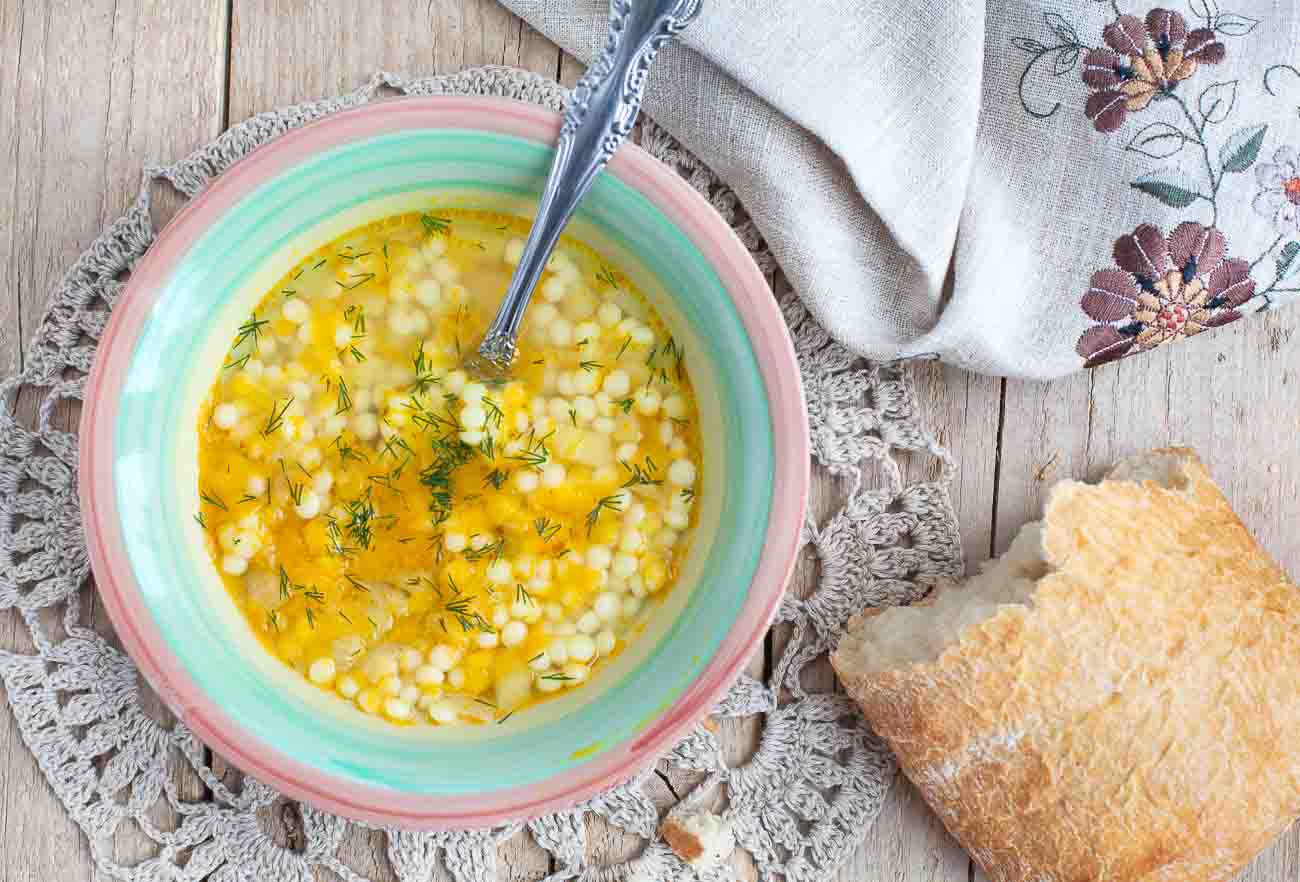 The Israeli Couscous Minestrone is a hearty and wholesome soup, that is different from the original minestrone. It follows the simple rubric that makes a minestrone - beans, pasta, tomatoes, and any other vegetables you have available, all thrown together in a big pot. The result of this soup is hearty, nourishing, and much more than you would expect from something born from improvisation. In my version I have used Israeli couscous (which is actually a small pasta rather than a grain) but feel free to use any other pasta.
Every Monday, I look at what we have in the pantry, fridge, and garden and decide what soup I'm going to make for the week ahead. Sometimes it features seasonal ingredients, such as a summer tomato soup or an autumn pumpkin soup; sometimes it's mostly from the pantry, like a dahl or dried bean and barley soup. Wherever I draw my inspiration from, it's always just the thing for a leisurely lunch at home, quick dinner before I run out to robotics, or anything in between. Having a soup in the fridge makes all the difference when I'm tired and hungry and just want the nearest thing in sight--instead of junk food, I can have a hearty and nutritious meal in minutes.
Serve Israeli Couscous Minestrone Soup Recipe along with Herbed Dinner Rolls Recipe, Grilled Vegetable and Oat Salad Recipe with Feta Cheese for a wholesome dinner.
Here are a few more Israeli delicacies that you can also try
Notes: If replacing Israeli couscous with another pasta, you will probably want more than 3/4 cup. You can also add a few stalks of celery and some dried basil for more flavor if you wish.
Diet:
High Protein Vegetarian
Ingredients
1-1/2 cups

White beans

1 tablespoon

Extra Virgin Olive Oil

1

Onion

, finely chopped
4 cloves

Garlic

, minced
3

Carrots (Gajjar)

, cut into thin coins
5

Tomatoes

, blanched and roughly chopped. See how to blanch tomatoes
4 cups

Vegetable stock

3/4 cup

Couscous

, whole wheat Israeli couscous recommended

Dill leaves

, for garnishing
How to make Israeli Couscous Minestrone Soup Recipe
To begin making the Israeli Couscous Minestrone Soup Recipe, the night before you make the soup, rinse the beans and cover with 6 cups of water in a large pot. Leave to soak overnight. Cook the beans until it is soft and tender. See video on how to cook beans in a pressure cooker.

Once cooked, allow the beans to cool and keep aside.

Heat a tablespoon of oil in a heavy bottomed sauce pan; add the onions and garlic and saute until lightly browned. Pour in the stock and tomatoes and add the carrots and beans. Turn the heat up to high and bring to a boil for a couple of minutes, then cover the pan and turn the heat to low. Simmer for 20 minutes.

While you are cooking the vegetables and onions are cooking, bring a medium saucepan of salted water to a rapid boil over high heat and add the Israeli couscous. Cook until al dente, about 5 minutes. Once cooked drain and add to soup.

When the soup is done simmering (the carrots should be soft), season to taste with salt and pepper, garnish with dill leaves and serve.

Serve this hearty wholesome Israeli Couscous Minestrone Soup as a weeknight dinner along with some fresh Herbed Dinner Rolls Recipe, Grilled Vegetable and Oat Salad Recipe with Feta Cheese for a wholesome dinner.