Karnataka Style Set Dosa Recipe
A pillowy soft dosa made with rice and poha/aval usually served in sets of three and served along with coconut chutney or karnataka style sambar. These are widely served in darshinis that make it a delicious breakfast meals for people who seek to have a quick breakfast.

Archana Doshi
On

Saturday, 14 November 2015 00:07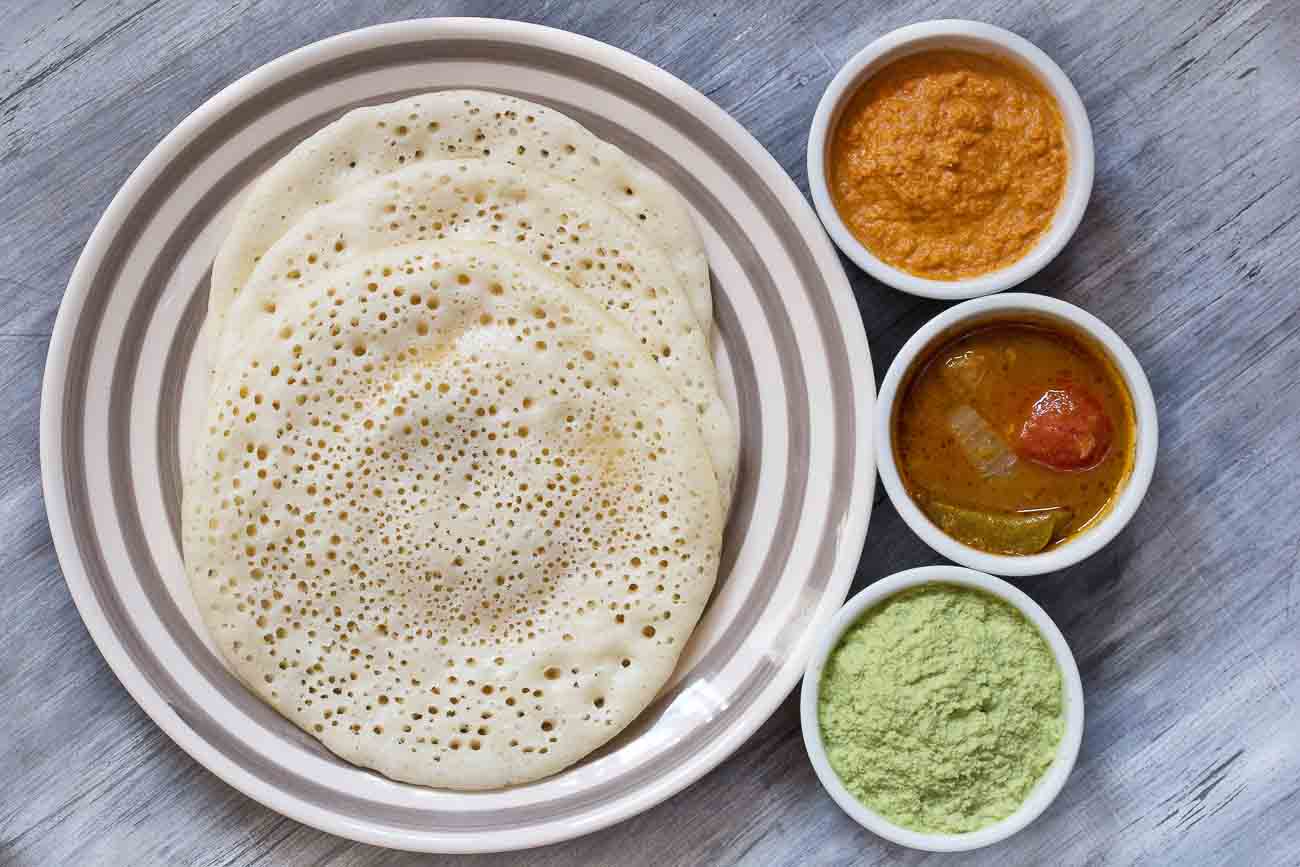 Dosas are an integral part of the South Indian cuisine and almost every region in south, has their own unique twist to making the dosas. The Karnataka Style Set Dosa is a thick dosa that comes in a set of three when you visit any Darshinis or Sagars in and around the state of Karnataka.
What makes set dosa different is the soft and pillowy nature of it and the distinct feature of holes all over the dosa. This is achieved because of the addition of poha/aval into the batter. A normal dosa does not contain aval/poha in the batter, yet might yield a soft dosa only to the extent of an uttapam.
Do try out this recipe of Set Dosa and let us know how it was. It makes a great lunch box as well, when you pack it along with a chutney. Kids love it and it is a must add to their lunch box one in a week.
Serve the Karnataka Style Set Dosas along with three different types of chutneys like Tomato Onion Chutney, Coconut Coriander Chutney and Ginger Walnut Chutney.
If you like this recipe of Karnataka Style Set Dosa, here are more Dosa Recipes that you may like:
Course:
South Indian Breakfast
Ingredients
2 cups

Idli Rice

1/2 cup

White Urad Dal (Whole)

2 teaspoons

Methi Seeds (Fenugreek Seeds)

1 cup

Poha (Flattened rice)

2 teaspoons

Salt
How to make Karnataka Style Set Dosa Recipe
To begin making the Karnataka Style Set Dosa Recipe, we will first soak the rice and flattened rice/poha together in one bowl and the urad dal along with the fenugreek seeds in another bowl. Soak them for at least 6 hours.

After 6 hours, grind the urad dal into a fine smooth batter. While grinding add just enough water to make it into a very very smooth batter. The batter will look fluffy. Pour this batter into a large container.

Grind the rice and flattened rice into a smooth paste, adding just the required amount of water to grind into a almost smooth batter and thick batter. Adding too much water will make the dosa batter too watery.

Combine the urad and rice batter, add salt to taste and set aside for at least 12 hours or overnight until the batter ferments. You will notice the batter would have doubled in volume.

Do make sure you place the batter in a large container so it has enough room to increase in its volume.

Once risen in volume, stir the batter just a little to combine it through. Take care not to stir it vigorously, as it will loose it fluffiness.

Heat a skillet over medium heat. You will know its heat just right, when you sprinkle some water over the skillet, it will sizzle.

Pour a ladleful of batter over the skillet and allow it to spread on its own (just a bit). The set dosa is like a pancake. It's a little thick and fluffy. Cover the dosa with a lid and allow to cook in its own steam for a few minutes.

Once you notice the top is steamed and cooked through, you can remove it from the skillet and serve. Proceed the same way to make the remaining set dosas.

Serve the Karnataka Style Set Dosas along with three different types of chutneys like Tomato Onion Chutney, Coconut Coriander Chutney and Ginger Walnut Chutney.
Note on fermenting the Idli Dosa Batter:
Fermenting has to take place where the weather is warm. So ideally summer's the batter ferments very well and doubles or triples its quantity. But in cold places, the batter has to be kept in an oven. If your oven has light, then turn on the light for a few hours with the batter in the oven.
Once the oven is warm, turn off the light and let the batter ferment.
If your oven does not have a light, then preheat the oven to warm, turn off oven then keep the batter in the oven to ferment.This process can be mastered with experience.