Kobbari Kudumulu Recipe (Indian Spiced Steamed Rice Balls)
Salt version of steamed rice dumplings- Undralu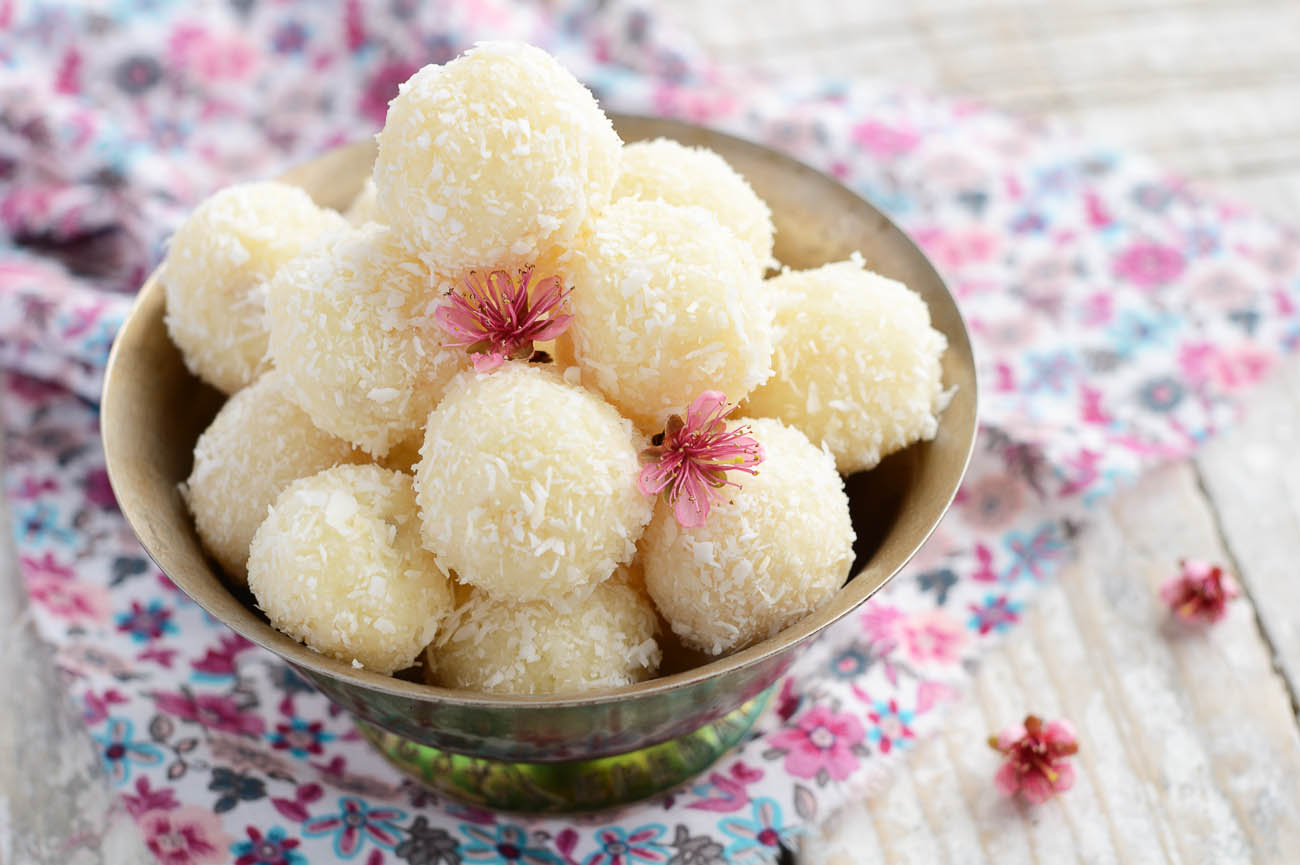 Kobbari Kudumulu also called as Undrallu is a traditional dish that is prepared in Andhra Pradesh during Vinayaka Chaturthi which is Indian Spiced Steamed Rice Balls. Each family has their own set of neivedhyam dishes to offer to Lord Ganesha during the chavithi pooja. Kudumulu are the most common ones that are prepared in most families. This kobbari kudumulu recipe is the salted version that used rice rava and coconut.
If you like this recipe, here are few more tea time snack recipes
Ingredients
1 cup

Rice rava

, or 1 cup rice, washed drained and dried
2 cups

Water

Salt

, to taste
1/4 cup

Fresh coconut

, grated
1/2 teaspoon

Cumin seeds (Jeera)

, coarsely pounded
2

Green Chillies

, finely chopped (adjust)
1/2 teaspoon

Whole Black Peppercorns

, pounded coarsely
1 teaspoon

Oil

, or coconut oil
How to make Kobbari Kudumulu Recipe (Indian Spiced Steamed Rice Balls)
To begin making the Kobbari Kudumulu Recipe; if you are using whole rice, then take the washed and dried rice and grind it in a mixer until it forms a coarse texture. Sieve this, and keep the flour aside. Only the rava will be used in making this recipe.

Now, boil 2 cups of water in a large vessel over medium heat, adding salt, cumin and oil to it.

Pour the rice rava in the boiling water little by little, ensuring that it is stirred constantly, to prevent lumping. Allow the rava to cook till all the water evaporates and the mixture thickens.

Once done, turn off the heat, add the grated coconut, pepper or green chillies and mix well. Keep the vessel covered for at least 10 minutes. The cooked rava can then be transferred to another large bowl and allowed to cool completely.

Once cooled, take the rava and make them into small even balls or shape them into triangles. Steam them in an idli cooker or steamer for exactly 7 minutes on a high flame and turn off the heat.

When the steamer has cooled down, about 7-10 minutes, open the cooker and take out the rice balls.

Your delicious Kobbari Kudumulu (Indian Spiced Steamed Rice Balls) is ready to served! Serve it as a tea time snack or for breakfast along with a tomato onion chutney.