Muesli Ballyvaughan | Overnight Muesli Recipe
Ireland breakfast specialty with muesli, mixed nuts and fruits

Monica Deshpande
On

Tuesday, 05 February 2013 14:41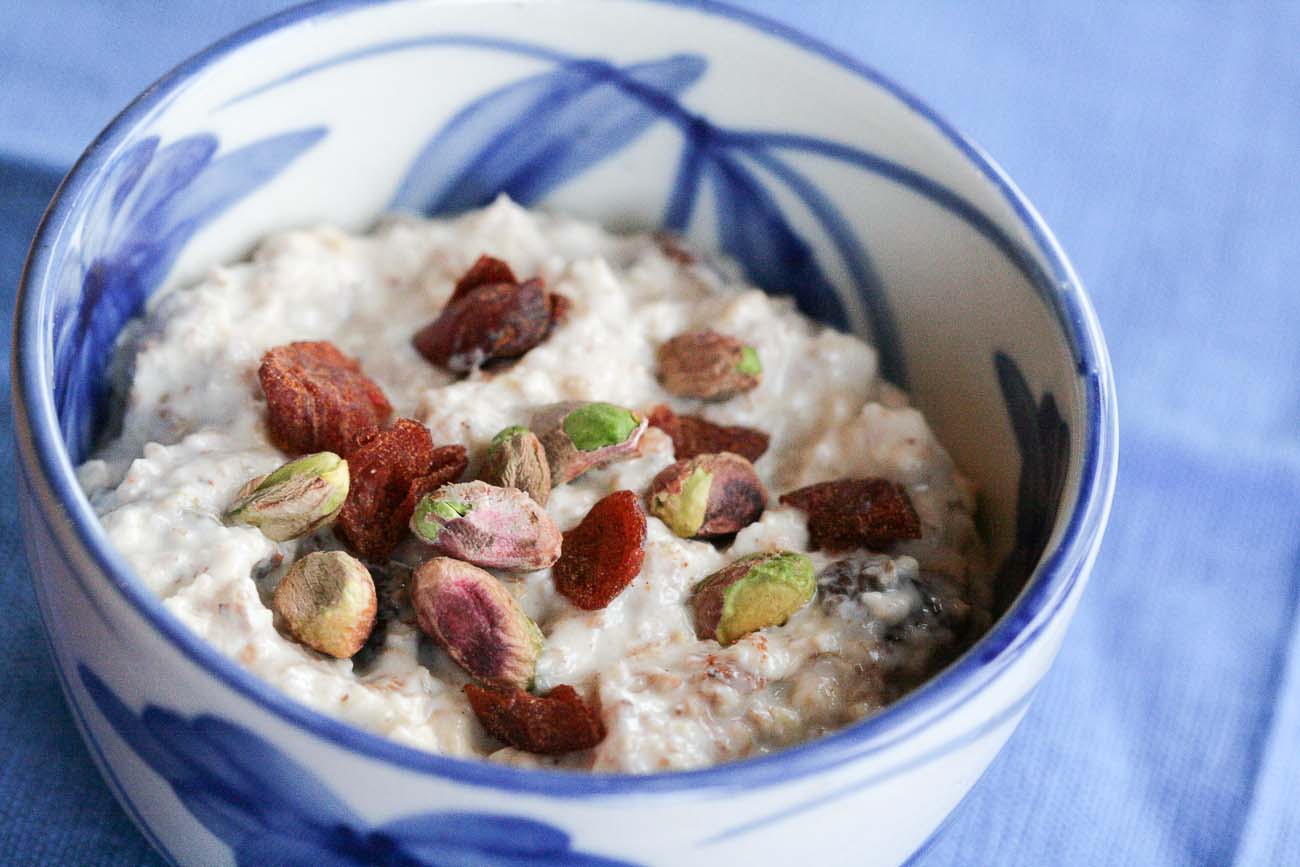 Muesli Ballyvaughan or Overnight Muesli is a great overnight muesli that we first tasted at Drumcreehy House in Ballyvaughan (Ireland). I have named it in remembrance of the fond memories of our holiday there. This is the perfect recipe for breakfast without too much fuss. Serve Muesli Ballyvaughan or Overnight Muesli with Spiced Pumpkin Smoothie Recipe.
If you like muesli recipes, here are more to try
Note: Fruity muesli can be store bought or homemade. I have used the store bought one here.
Ingredients
1 cup

Muesli

, (fruity muesli)
200 grams

Hung Curd (Greek Yogurt)

1 tablespoon

Honey

, or maple syrup
1/4 cup

Apple juice

, or milk
3 tablespoons

Corn flakes

, or crunchy granola
2 tablespoons

Mixed nuts

, (pistachios, chopped almonds, pecans, brazil nuts - anything you have, really)

Mixed fruits

, chopped, or berries for the topping
How to make Muesli Ballyvaughan | Overnight Muesli Recipe
To begin making the Muesli Ballyvaughan or Overnight Muesli, the night before, pour the muesli into a bowl. Add in the greek yogurt, honey and milk/juice. Stir well. Cover with a lid and pop into the fridge overnight.

The next morning, take the bowl out of the fridge. If you prefer it slightly warmer, pop into the microwave for 30 seconds to bring it to room temperature.

The muesli will have soaked in the yogurt and the flavour of the juice. If you find it too thick, add some more juice or milk. Add corn flakes or granola for the crunch factor.

Top the Overnight Muesli with the chopped nuts and fruits. (I've topped mine with pistachios and dried cranberries. Add some more honey or maple syrup if you prefer it sweeter and serve with Spiced Pumpkin Smoothie Recipe.

Variations:

Instead of greek yogurt, you could also use fruit yogurts for an added flavour. Strawberry yogurt works really well. You could easily mash some strawberries into the yogurt before soaking the muesli in it.