Quick Indian Style Ginger Pickle Recipe
Spicy & instant accompaniment recipe

Praerna Kartha
On

Wednesday, 24 June 2015 00:35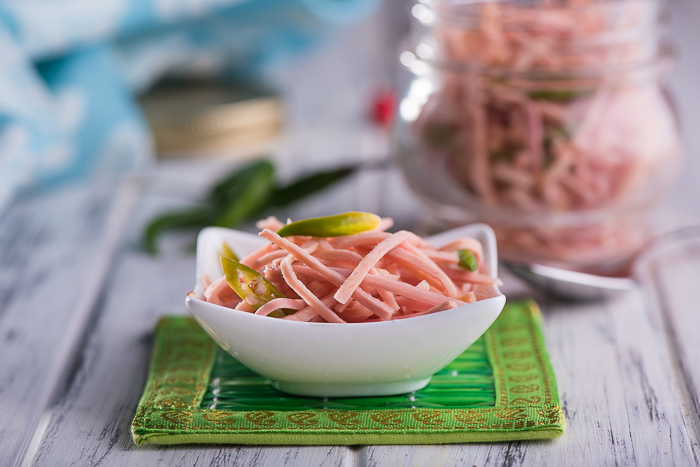 Quick Ginger Pickle is an easy to prepare pickle that makes a perfect accompaniment to Indian meals including parathas that we have for breakfast . Using very basic ingredients, Ginger Pickle brings the unadulterated, earthy and spicy flavor of ginger to the fore with just a little lemon juice for tang and a little green chili for heat.
Did you know: Ginger has a long history of use for relieving digestive problems such as nausea, loss of appetite, motion sickness and pain. It has also been known to combat cold and flu. Of late, it is also believed to have larger health benefits like prevention of colon cancer and treatment of ovarian cancer.
Here are a few more instant pickle recipes that you will fall in love with
Ingredients
100 gram

Ginger

, peeled & julienned
1 teaspoon

Salt

2

Lemons

, juiced
4

Green Chillies

, slit
How to make Quick Indian Style Ginger Pickle Recipe
To prepare the Ginger Pickle, first peel and wash the ginger. Pat dry it with the kitchen towel.

Cut ginger into thin juliennes or strips. Place the juliennes in a glass mixing bowl, add the salt and give it a good stir. Set this aside for 5 minutes or till ginger releases water and turn soft.

While the ginger is in the bowl slice the chillies diagonally into thin, long slices.

Add the chillies and lemon juice to the ginger and give it a good stir. Let the pickle rest for few minutes at room temperature and the ginger changes color to light pink.

Transfer instant ginger pickle to a clean and dry glass jar, seal the jar with a lid and store the pickle in the refrigerator.

Serve the Quick Indian Style Ginger Pickle with paratha for breakfast or along with the any other main course dish.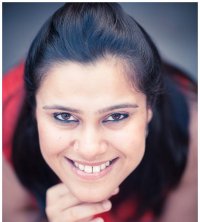 Praerna is an ex-advertising and communication professional with an all-compelling obsession with all things to do with food. Along with her commercial photographer husband, she runs a boutique photography studio called Thoda Strong in the vibrant community of Shahpur Jat in New Delhi. Praerna is a professional food stylist and part time food blogger – and works in collaboration with food photographers and brands to create stunning, marketable and compelling images of food. When she's not up to her elbows in a shoot, she enjoys creating step-by-step recipes, documenting her adventures in food and checking out new places around town in her food blog (http://food-dee-dum.com).