Ragi Rava Dosa Recipe With Oats - Finger Millet & Oats Dosa Recipe
Ragi Rava Dosa Recipe is delicious and healthy dosa made from Oat and Ragi that can be served along with Chutney and Sambar for a wholesome breakfast. It makes a perfect diabetic friendly recipe as well.

Archana Doshi
On

Thursday, 21 August 2008 14:52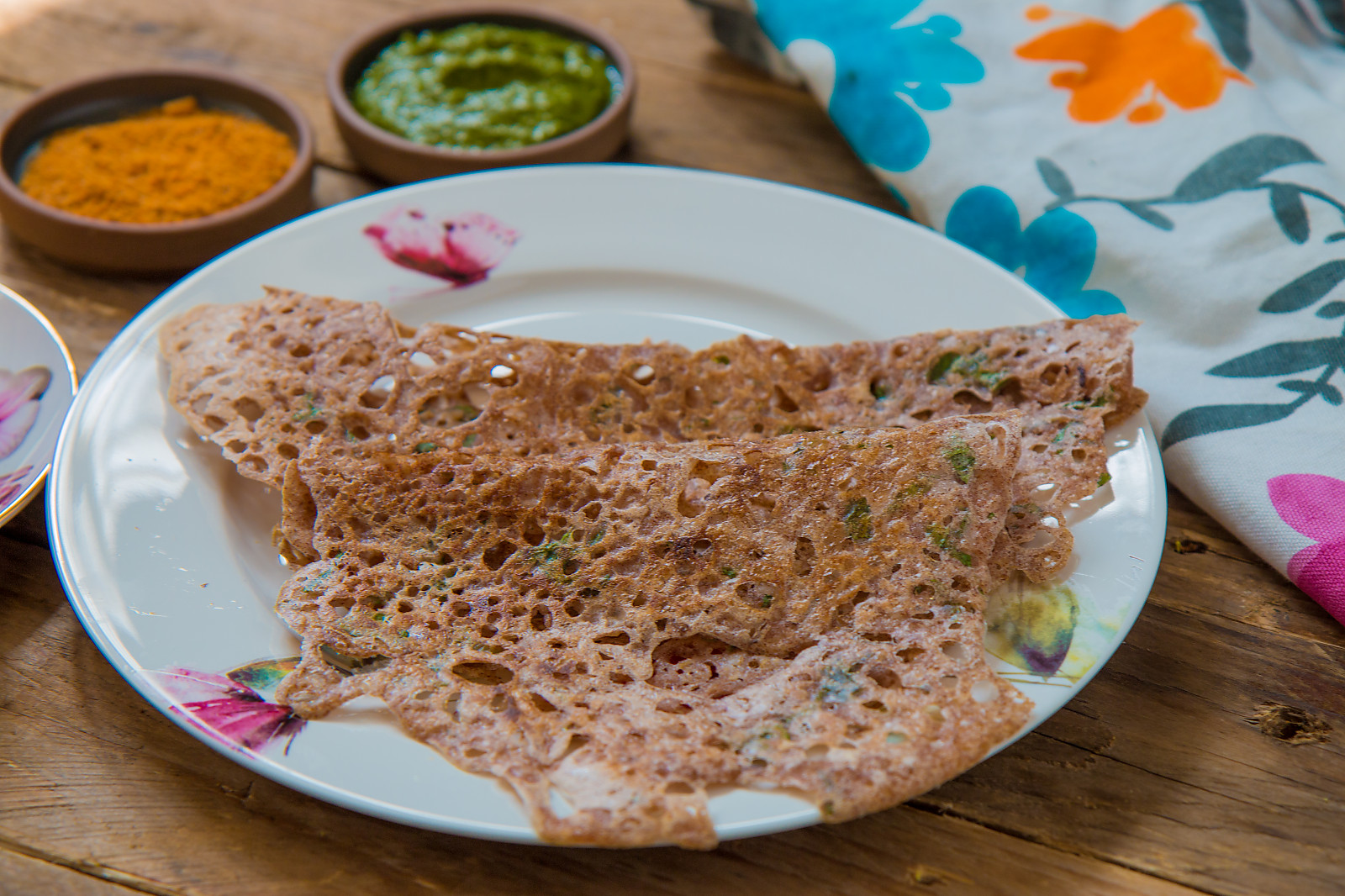 Ragi Rava Dosa Recipe With Oats is delicious and healthy combination of Oat and Ragi made into a batter and prepared to make a crispy dosa. Ragi and Oatmeal flour are whisked together and spiced up with green chillies, coriander leaves and cumin seeds.
The result is an absolutely delicious flavor and packing you up with all that energy and makes a great diabetic friendly breakfast as well. This has always been a quick fix meal for me when I run out of groceries. My children enjoy these dosas for breakfast or dinner.
Did you know: Ragi is rich in calcium, helps in weight loss, has a high fiber content, battles anemia, reduces blood cholesterol and also regulates blood sugar levels.
Because of its low glycemic index, it helps reduce food cravings and slows down absorption of starch, thus helps in regulating the blood sugar for diabetic.
Also, Oats are a diabetes power food because of their fiber content. Research shows that consuming oats can also lower the bad cholesterol and improve insulin resistance in your body.
Serve the Ragi Rava Dosa with just a cup of yogurt, or with Vengaya Sambar Recipe and Tomato Chutney or even just along with jaggery and butter
If you like this recipe of Ragi & Oats Dosa, here are a few more Dosa Recipes.
Note: If you use rice flour, you will not be spreading the batter like we do for the normal dosa. The batter should be thin enough to flow and spread itself on the tawa and form shape on its own. You can turn the skillet around to help form a shape without using a ladle.
Note: If you add whole wheat flour then you can make it similar to the dosa consistency, where the batter can be spread with a ladle. You will need to add a little less water than required for the rice flour, so the batter is a little thicker. The Gluten in the whole wheat will enable the batter to thicken, thus helping it to spread easily.
Course:
South Indian Breakfast
Ingredients
1/2 cup

Ragi Flour (Finger Millet/ Nagli)

1/4 cup

Instant Oats (Oatmeal)

1/4 cup

Rice flour

1/4 cup

Sooji (Semolina/ Rava)

3-1/2 cups

Water

2

Green Chillies

, finely chopped
1 inch

Ginger

, grated
1/2 teaspoon

Whole Black Peppercorns

, crushed
1 teaspoon

Cumin powder (Jeera)

2 sprig

Coriander (Dhania) Leaves

, chopped

Salt

, to taste

Ghee

, for cooking the dosa
How to make Ragi Rava Dosa Recipe With Oats - Finger Millet & Oats Dosa Recipe
To begin making the Ragi Rava Dosa Recipe, in a large bowl combine the Semolina, Ragi & Rice flours and salt. Stir 3 cups of water to make a thick batter. Allow the batter to rest for about 10 minutes.

Stir in the remaining ingredients into the ragi rava dosa batter - green chillies, grated ginger, peppercorns, cumin seeds and finely chopped coriander leaves. Combine well.

Finally add 1/2 cup more water to the batter to make it of thin pouring consistency. It will be thinner than the pancake/dosa batter.

When the ragi rava dosa batter is thin, it spreads wild on a heated skillet, producing holes in the dosa and making it crisp

Heat a iron skillet or dosa tawa on high heat. Make sure the skillet is very hot. To test the heat, sprinkle some water on the skillet, it will sizzle when its hot.

Pour a ladle of the ragi rava dosa batter starting from the outer edges. The batter will sizzle and spread itself forming holes. Pour the batter from a height, Fill in the batter where there are gaps. Although allow the dosa to have a few holes.

Turn the heat to medium, if you want a crisp ragi oats dosa. The slower it cooks, the crispier it gets.

Drizzle about 1/2 teaspoon of ghee around the dosa and allow it to cook for 2-3 minutes on medium heat.

Once golden and crisp on one side turn it over and allow to cook for another minute. At this stage the dosa will be thin and crisp, with one side golden brown in color.

Remove the Ragi Rava Dosa With Oats off the skillet. Repeat to make the remaining dosas.

Serve the Ragi Rava Dosa With Oats with just a cup of yogurt, or with Thakkali Vengaya Sambar and Tomato Chutney or even just along with jaggery and butter.