Russian Radish Cucumber Salad Recipe
A healthy salad with radishes and cucumber with a yogurt dressing.

RUBY PATHAK
On

Saturday, 23 December 2017 09:00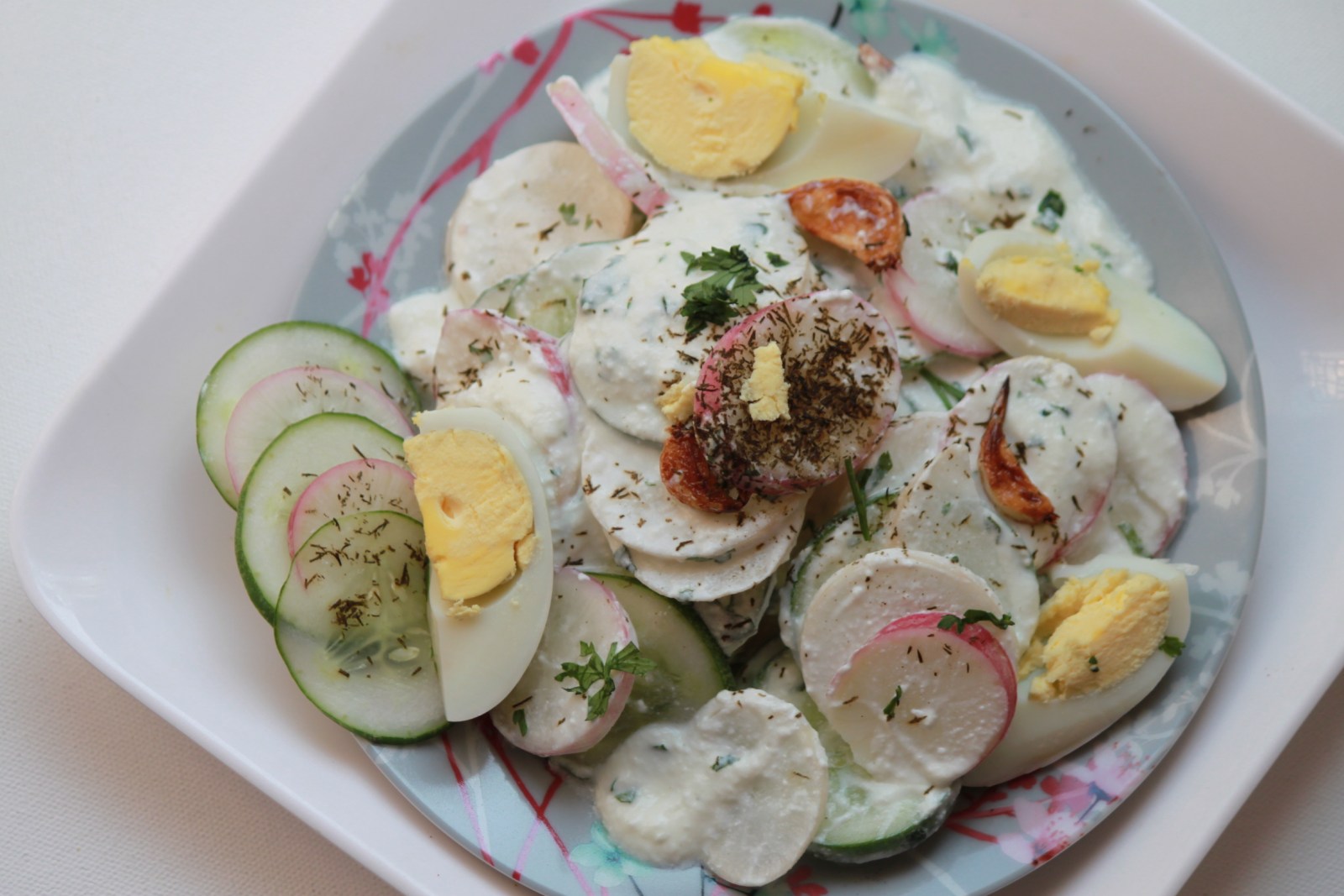 This simple Russian salad is very easy to make and can be a tasty healthy winter variety. A perfect creamy, nutritious and crunchy salad, makes it more colourful with addition of coloured radishes available from your local market; try and acquire organic radishes . In this recipe, we have used a dill yogurt dressing with the roasted garlic but using sour cream instead of curd will add a better flavour to the salad.
Serve Russian Radish Cucumber Salad with Macaroni Minestrone Soup Pot Recipe or a Hearty Vegetable Tortilla Soup Recipe
If you like this recipe, here are some more salad recipes
Ingredients
1

Red Radish

1

Mooli/ Mullangi (Radish)

1

Cucumber

5

Garlic

1 Cup

Curd (Dahi / Yogurt)

2

Whole Egg

, hard boiled
1/2 teaspoon

Dill leaves

1/2 teaspoon

Chives

, fresh
1 teaspoon

Almond Oil (Badam Oil)

Sea salt

, to taste
How to make Russian Radish Cucumber Salad Recipe
To begin making Russian Radish Cucumber Salad Recipe, first wash the vegetables and soak in water for 15 minutes.

Pat dry the vegetables on a kitchen towel and slice the radishes and cucumber finely in circular shapes.

Heat a heavy bottomed pan with some oil and fry the garlic pods on low flame till roasted.

Take a big bowl and beat the curd with chives and sea salt.

Add the garlic and vegetables to this bowl and mix until the yogurt coats well on all the vegetables. Refrigerate for 10 minutes.

Meanwhile slice the hard boiled eggs. Take the vegetables out of the refrigerator and add the boiled eggs to it.

Now serve cold on a fancy platter garnish with fresh herbs.

Serve Russian Radish Cucumber Salad with Macaroni Minestrone Soup Pot Recipe or a Hearty Vegetable Tortilla Soup Recipe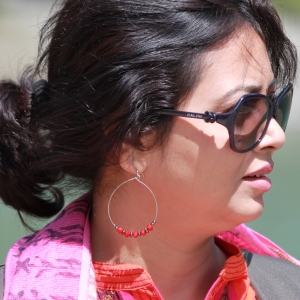 Apart from being a co-director for our online fashion brand I am one self taught and passionate recipe developer. My family and friends love my cooked recipes for the last 20 years both when I was staying abroad and also at present in my homeland. My mission is to make cooking fun and make it better, beautiful, simple, tasty, healthy using organic ingredients. Finally turn my hobby to a career for the rest of my life which at present is my dream food business, TASTY FUSION. I am really thankful to my parents and family for inspiring and supporting me. Grateful to food networks of USA,AUSTRALIA AND INDIA to feed my passion and bring it to life. Online Recipe Websites, recipe books, Magazines are fresh air that fuel my hobby and creativity. Love to innovate,experiment recipes from world cuisine. Yoga, Gym Workout, Travel, Home making, Music are few of my interests. I just love my Life. For collaboration and information,please contact me at: ruby_pathak@yahoo.com Appreciate your interest in my page.