Thai Veg Papaya Salad Recipe (No Onion No Garlic)

Dhara Shah
On

Tuesday, 25 October 2016 00:06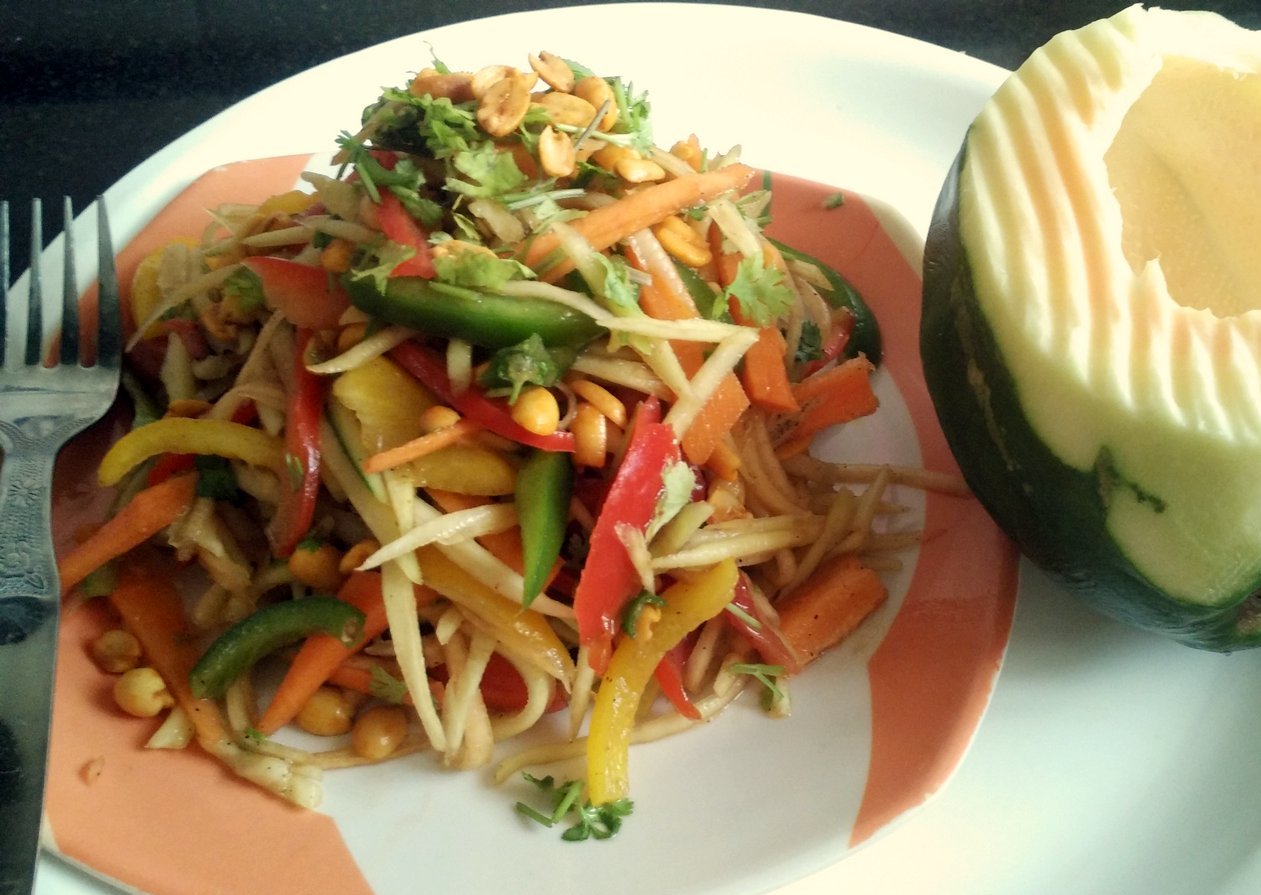 Thai Veg Papaya Salad Recipe is a No Onion No Garlic recipe and easy to fix up for a quick dinner. You will need a food processor or a mortar and pestle to prepare this salad recipe with raw papayas. Taste-test to tweak the papaya salad to your taste. More chili can be added for more spice. If too sour for your taste, sprinkle a little white sugar over your salad and toss to mix. In Thailand, this Veg Papaya Salad Recipe is served with jasmine sticky rice on the side. This Thai Veg Papaya Salad can be served as a snack during evenings.
If you like this recipe, here are a few more Thai recipes that are sure to interest you
Ingredients
1

Raw papaya

, thinly chopped
1 cup

Tomato

, sliced
1 cup

Red Yellow and Green Bell Peppers (Capsicum)

, thinly chopped
1/2 cup

Roasted Peanuts (Moongphali)

, or roasted cashew
5

Green beans (French Beans)

1

Green Chilli

, sliced, seeds removed (to taste)
2 tablespoon

Soy sauce

2 tablespoon

Oil

3 tablespoon

Lemon juice

2 tablespoon

Brown Sugar (Demerara Sugar)

1/4 cup

Basil leaves
How to make Thai Veg Papaya Salad Recipe (No Onion No Garlic)
To prepare Veg Thai Papaya Salad (Without Pounding, No Onion No Garlic), shred the papaya using the largest grater or a sharp large knife (Thailand method) and run it under the surface continually to release nice and thin shreds.

In a food processor or chopper, add the chili, soya sauce, oil, lime juice and brown sugar. Churn until liquid oozes from the chilli.

Slice the beans into segments and add them to the chopper or processor. Pulse to lightly chop and bruise the beans (in Thailand the beans are pounded to bruise them, but this method works just as well).

Place the shredded papaya, and other vegetables-tomatoes, bell peppers that you are using- in a large salad bowl, holding back some of the basil for the garnish. Pour over the dressing and beans and toss.

Finally, add the nuts and toss again.

Adjust spices and taste as per requirement. Serve Veg Thai Papaya Salad (No Onion No Garlic) as it is or as a side dish to any Thai entree. If this is your main course, try serving like they do in Thailand, with a side of jasmine sticky rice.