Vadu Mangai Pickle Recipe - Tender Small Raw Mango Pickle
The Vadu Mangai Pickle Recipe is a very traditional south indian mango pickle with is made really simple with mustard seeds and red chillies. It is traditional had along with a bowl of curd rice to end a meal.

Vanita Vasudevan
On

Thursday, 14 May 2015 00:44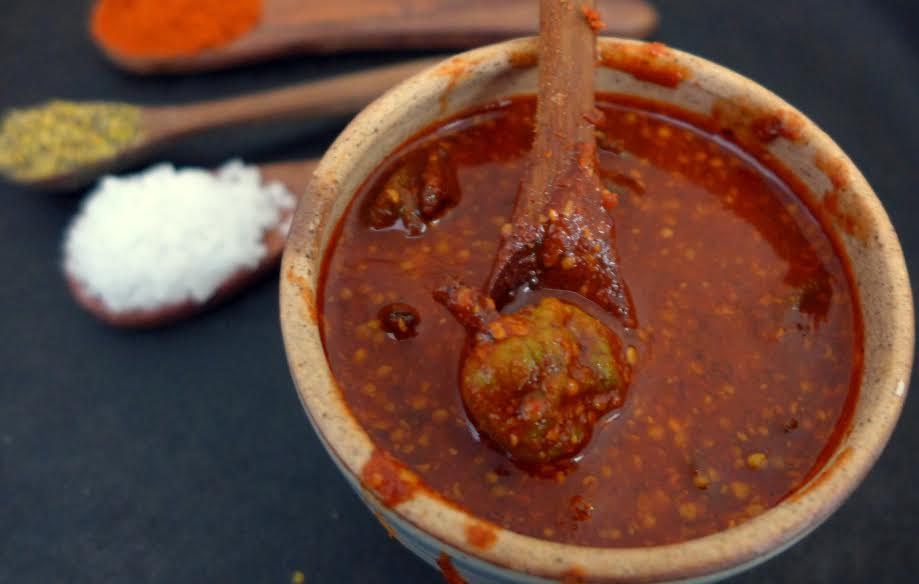 Vadu Mangai Pickle is a spicy and flavorful South Indian style tender raw mango pickle. Vadu Mangai or the raw mango is a unripe variety of the mango little sweet but pungent, often used for pickling. Vadu Mangai Pickle is an everyday staple condiment in Tamil Brahmin household usually savoured with curd rice.
These tiny baby tender mangoes are native to the Southern India, and can be pickled only during a brief period of March-April. You will find them on the streets of Mylapore and West Mambalam. It typically lasts for about a year or more if stored well in a cool and dry place.
Did you know: Mango fruit is an excellent source of Vitamin-A and flavonoids, one Mango provides the daily requirement of Vitamin A to the human body. It is rich in prebiotic dietary fiber, vitamins and minerals as well. Mangoes are very low in saturated fat, cholesterol, and sodium.
If you like this recipe, you can also try other pickles like
Ingredients
250 gram

Mango (Raw)

, (baby mangoes)
1 cup

Red Chilli powder

1/4 cup

Mustard seeds (Rai/ Kadugu)

, coarsely pounded
1 cup

Rock Salt
How to make Vadu Mangai Pickle Recipe - Tender Small Raw Mango Pickle
To begin making the Vadu Mangai Pickle Recipe, start with trimming the mango stem. Next clean and wash mangoes with the water to remove any dirt particles.

On a large muslin cloth, spread them out evenly and allow them to dry or you can wipe them with the kitchen towel.

Prepare a large size jar with the lid by cleaning and washing it. Once washed wipe the jar with a dry kitchen towel so that no traces of moisture or dirt remain inside the jar. Set aside till required.

Next add the mangoes in a large steel mixing bowl along with salt, red chili powder and mustard powder. Stir to combine. Once mangoes are nicely coated with the spices, transfer to the prepared jar and seal the jar with the lid.

The pickling process takes about 10 days to 2 weeks. Do not open the jar or use a spoon to stir the mangoes at this point. Shake the jar gently once every day just enough to combine the Vadu Mangai Pickle ingredients.

After few days open the lid, you will notice that water is released from the Vadu Mangai Pickle. The mangoes would have reduced in size a bit and will have wrinkle skin.

The wrinkled mango skin is the green signal that the Vadu Mangai Pickle is ready to consume.

The salt, chilli powder and the mustard will come together to form a gravy or what we call manga thanni.

Vadu Mangai Pickle is now ready to be savoured with curd rice for the lunch.