Acorn Squash Sambal Recipe

RUBY PATHAK
On

Sunday, 07 January 2018 09:00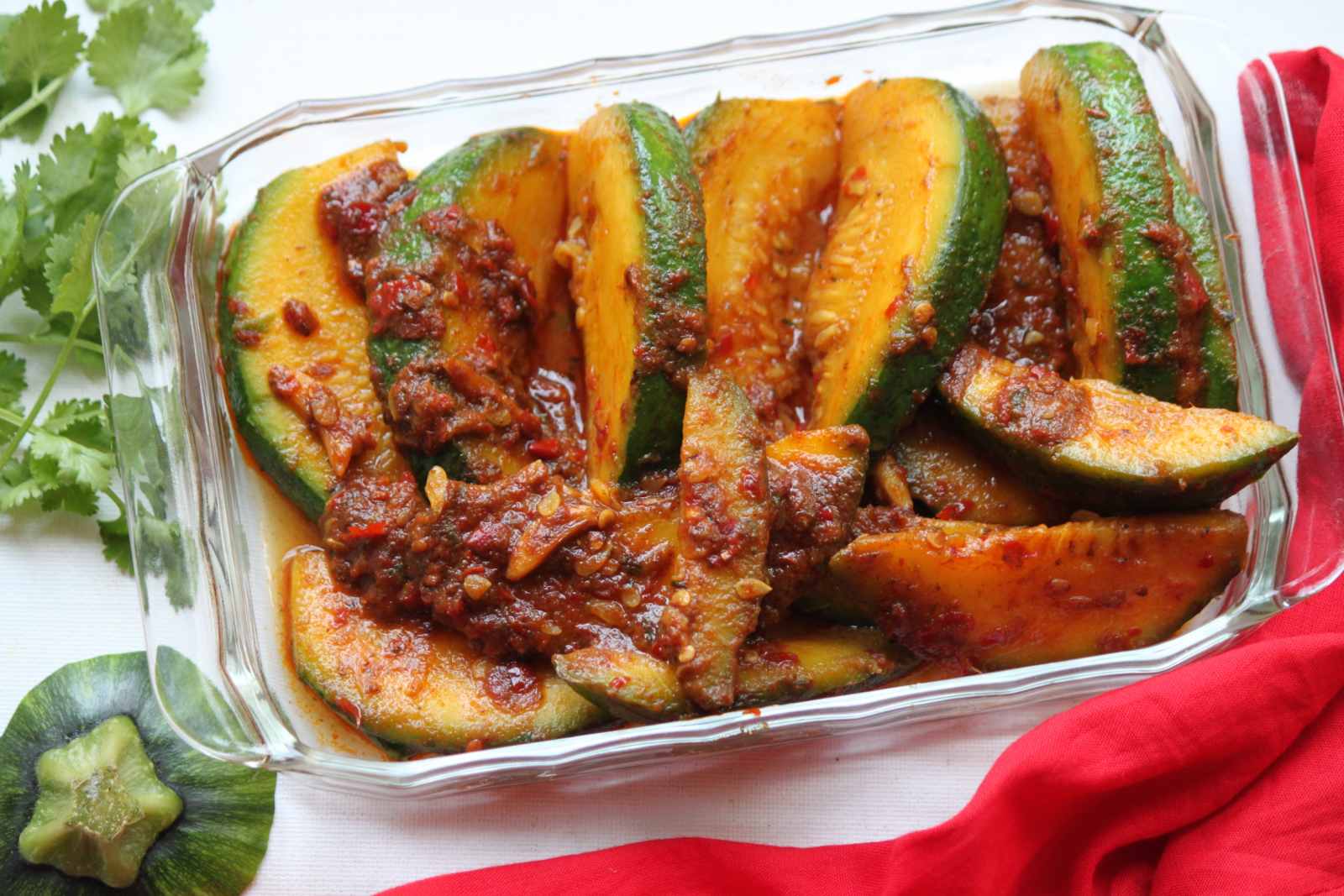 Winter vegetables are abundant and they make for a delicious meal as they are so fresh in quality. Acorn Squash or Green Pumpkin is one such vegetable that is so versatile that it can be used to make side dishes, gravies or added to your main dishes. In this recipe, we cook Acorn Squash in Sambal paste which redefines the recipe as the juices of the paste enters the fleshy acorn squash.
Sambal is a typical Asian relish or hot sauce in which fresh red chillies are the main ingredient to which multiple secondary ingredients such as shrimp paste, fish sauce, garlic, ginger shallots, lemon grass etc are added and crushed into a coarse paste in a mortar and pestle. Sambal is usually served as a side dish or added to main dishes to give it that extra kick of spice and tang.
Serve Acorn Squash Sambal as a side dish to Thai Jasmine Sticky Rice Recipe and Malaysian Vegetable Curry Recipe for a pan Asian meal.

If you like this recipe, here are a few Sambal based recipes:
Ingredients
1

Acorn Squash

,  medium sized
3 teaspoons

Sambal paste

1 teaspoon

Turmeric powder (Haldi)

2 inch

Ginger

3 cloves

Garlic

3 teaspoons

Groundnut oil

Salt

, to taste
How to make Acorn Squash Sambal Recipe
To begin making the Acorn Squash Sambal Recipe, wash the vegetable and then cut it lengthwise about one to two inch thickness into several pieces. You can cut the vegetable along with the thick outer skin.

Coat the cut pieces of Acorn Squash with turmeric powder and salt.

In a skillet, heat some oil. Place the acorn squash pieces in the skillet. Let the pieces cook in the pan for five minutes. Turn the pieces of the squash over so that they cook evenly on all sides.

Meanwhile, take the pieces of ginger and garlic and add to a mixer and grind it to a fine paste.

Add this ginger garlic paste to the acorn squash.

Next add in the Sambal paste. Stir fry for few minutes until the ginger garlic paste and sambal paste coat well on the acorn squash pieces.

Add 2-3 tablespoons of water and cook till the pieces of acorn squash softens.

If you need a dry recipe, then cook a little longer as the texture will as that of a pickle.

Serve Acorn Squash Sambal as a side dish to Thai Jasmine Sticky Rice Recipe and Vegetarian Thai Red Curry Recipe for a delicious Pan Asian meal.