Gujarati Methi Na Dhebra Recipe
Gujarati Methi Na Dhebra Recipe is a super healthy recipe made with jowar and bajra. This dhebra can be had at any time during the day, be it breakfast, lunch or dinner.

Dhara Shah
On

Wednesday, 18 January 2017 00:00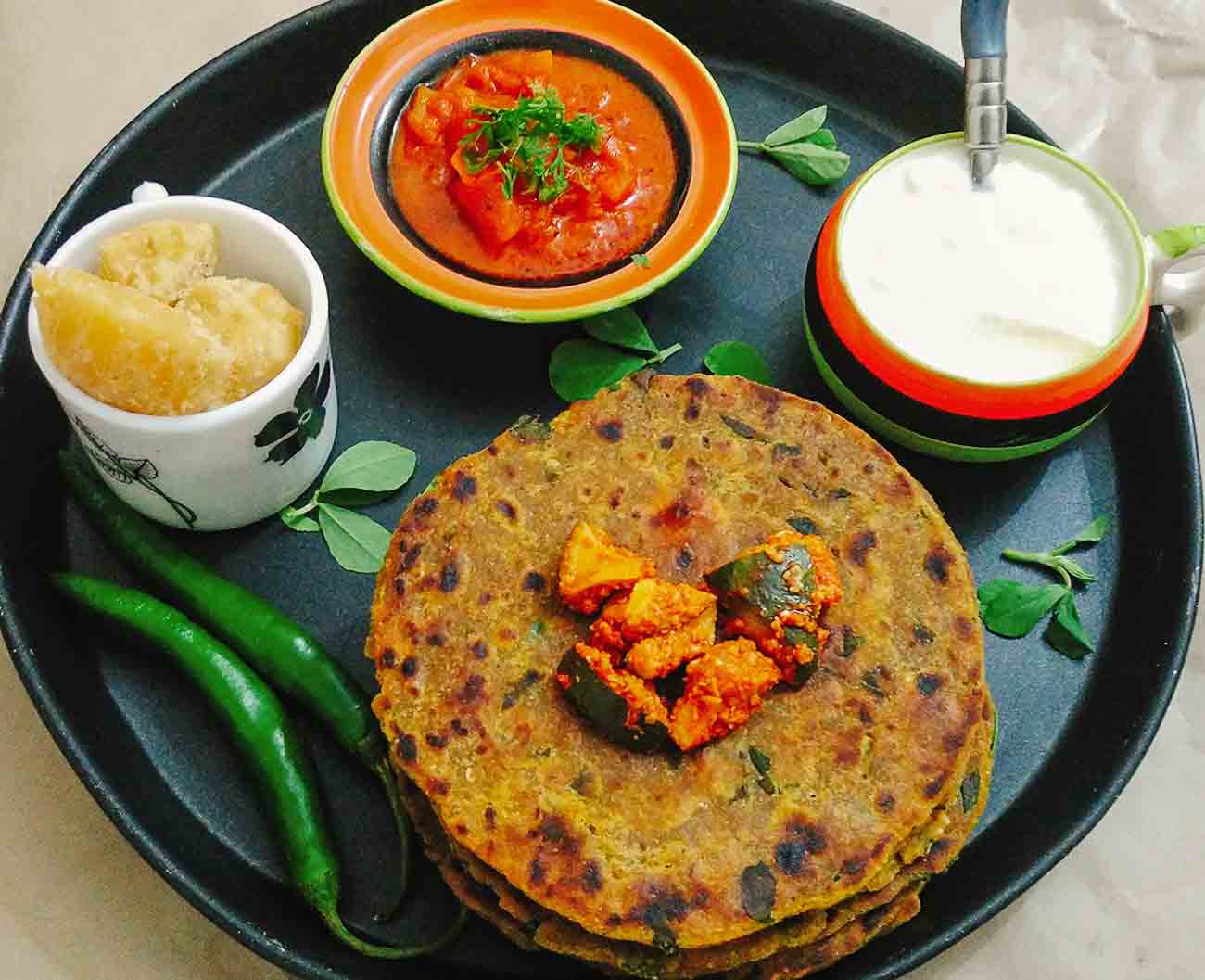 Gujarati Methi Na Dhebra recipe is perfect tea time snack from the state of Gujarat. You can use either fresh methi leaves (fenugreek) or dried methi or kasuri methi, to prepare this dish. I have used fresh methi in this recipe. This is a heirloom recipe that I have learned from my grandma.
Serve Gujarati Methi Na Dhebra recipe dabbed with homemade ghee along with a cup of pounded jaggery, Naranga Achaar, yogurt and Sev Tamatar Ki Sabzi for dinner or serve it with pickle for snack.
If you like this recipe, try more recipes from Gujarati cuisine, like
Note:
If you are making it first time then you have to keep in mind that it is a sticky dough and you have to be gentle while rolling it. Because of millet flour (bajra flour) it will not be perfect round, you will get rough edges unlike roti or paratha. Practice is needed for rolling dhebra.
Minimise dusting of the dough with whole wheat flour, since it tends to harden and dry it out while cooking.
Ingredients
1/2 cup

Bajra Flour ( Pearl Millet)

1/2 cup

Jowar Flour (Sorghum)

1/2 cup

Whole Wheat Flour

, More for dusting
2 cups

Methi Leaves (Fenugreek Leaves)

, finely chopped
2 inch

Ginger

, ground to paste
3

Green Chillies

, finely chopped
1 tablespoon

Sesame seeds (Til seeds)

2 teaspoons

Red Chilli powder

2 teaspoons

Turmeric powder (Haldi)

1/4 teaspoon

Asafoetida (hing)

5 tablespoons

Curd (Dahi / Yogurt)

1 teaspoon

Sugar

, (optional)

Salt

, to taste
1 tablespoon

Oil
How to make Gujarati Methi Na Dhebra Recipe
To prepare Gujarati Methi Na Dhebra Recipe, get all the ingredients ready.

In a large bowl, mix fenugreek leaves, ginger paste, green chilies, sesame seeds, chili powder, turmeric powder, asafoetida. Mix it well with a teaspoon of oil. Keep aside for 5 minutes to help fenugreek leaves soften a bit.

Add millet flour, whole wheat flour, sugar and salt.

Mix well using your finger so fenugreek mixture will incorporate well with flours. It will look crumbly texture.

Add tablespoon yogurt at a time and knead to form soft dough. You will need 5 or 6 tablespoon of yogurt depends on your flour or depends on the consistency of your yogurt . So add little yogurt at a time so will come to know how much you need. Cover it and let it stand for 10-15 minutes.

After 15 minutes, knead it again to make it smooth.

Divide it into 10 equal portions. Roll each portion between your palm and press into a circle.

Heat the tawa on medium heat.

Dip the flattened ball into dry chapati flour and coat well. Roll it gently in to circle about 6 inch in diameter.

Once hot placed rolled dhebra on the skillet. When you see bubbles on it flip it. After few seconds apply some oil on it and flip it again and press gently using spatula and cook until you see some brown spot on bottom side.

Apply some oil again (optional) on other side and flip and cook on that side.

When done, take it out from skillet/tawa proceed similarly till all the dough is used up.

Serve Gujarati Methi Na Dhebra recipe dabbed with homemade ghee along with a cup of pounded jaggery, Naranga Achaar, yogurt and Sev Tamatar Ki Sabzi