Healthy Pumpkin Carrot Idli Recipe
Healthy Pumpkin Carrot Idli Recipe is a super healthy idli recipe. A great way to add vegetables into your child's diet, by camouflaging vegetables like carrot and pumpkin in the idli, as idli is often found to be liked by kids.

Archana's Kitchen
On

Sunday, 05 August 2018 09:00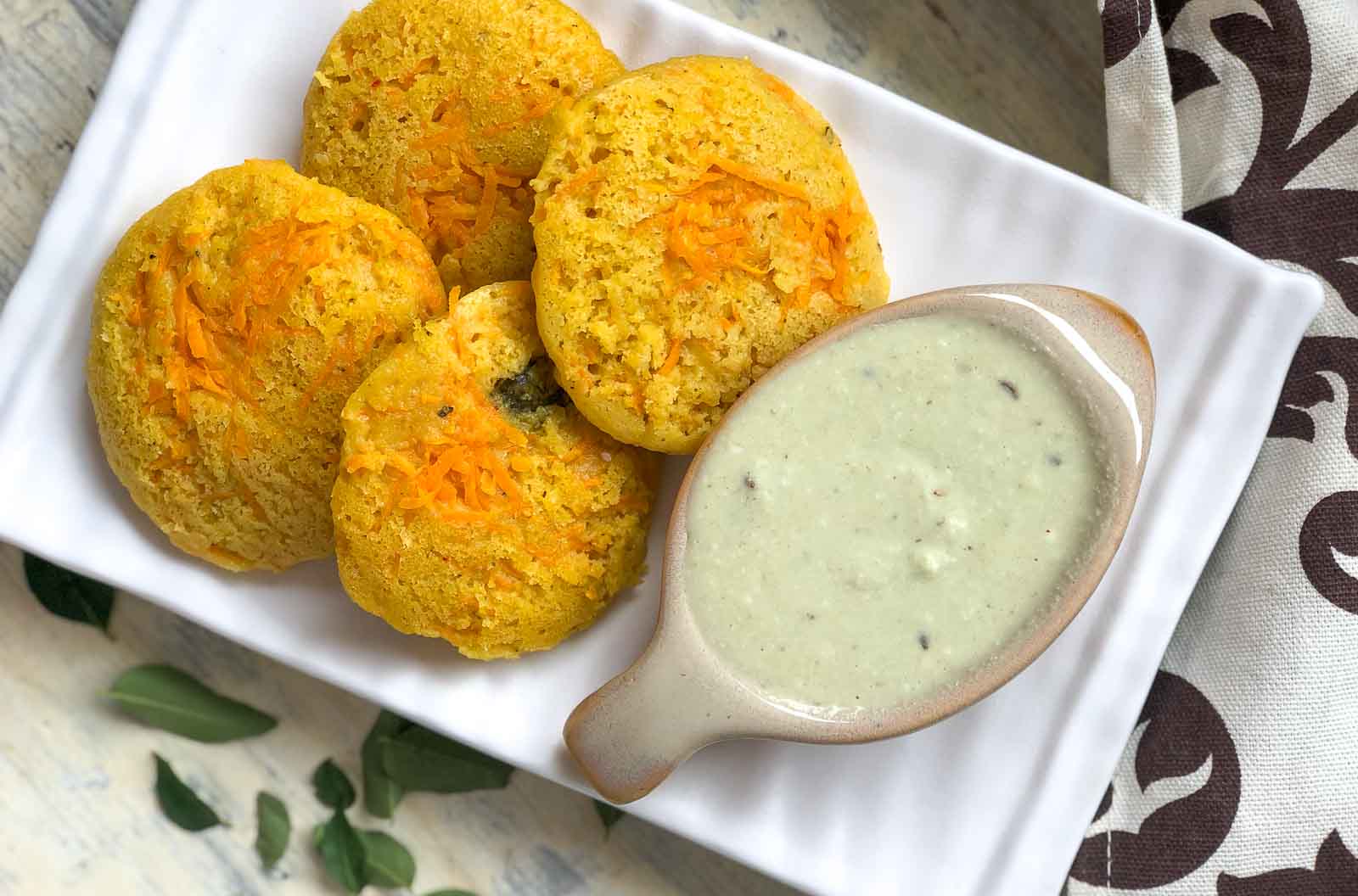 Healthy Pumpkin Carrot Idli Recipe, is a delicious and super nutritious idli, where the idli batter is enriched with freshly made pumpkin puree and grated carrots.
These idlis appear colourful and attractive, as it gets its colour from the pumpkin puree and carrots.
Did you know: Carrots are an excellent source of vitamin A, vitamin C needs and iron. It is the antioxidant beta-carotene that gives carrots their bright orange color. Beta-carotene is absorbed in the intestine and converted into vitamin A during digestion. Carrots are also the powerhouse of fiber, vitamin K, potassium, folate, manganese, phosphorous, magnesium, vitamin E, and zinc.
Serve Healthy Pumpkin Carrot Idli Recipe along with Coconut Chutney Recipe- For Idli And Dosa, Karnataka Style Ranjaka Recipe (Red Chili Chutney Recipe) and Tomato Upma Recipe for a complete breakfast. Finish off the breakfast with South Indian Filter Coffee Recipe With Filter Coffee Powder
Try our other Idli recipes:
Course:
South Indian Breakfast
Ingredients
3 cups

Idli Dosa Batter

1 cup

Kaddu (Parangikai/ Pumpkin)

, peeled and cubed
1/2 cup

Carrots (Gajjar)

, grated
How to make Healthy Pumpkin Carrot Idli Recipe
To begin making the Healthy Pumpkin Carrot Idli Recipe, we need to first keep the idli batter ready.

You can either use store bought idli batter or make it at home using this Homemade Idli Dosa Batter Recipe.

To make the pumpkin puree.

In a pressure cooker, add the pumpkin cubes with 1/4 cup of water and close the cooker. Pressure cook for 2 whistles and turn off the flame. Allow the pressure to release naturally, open the pressure cooker and allow it to cool.

Transfer the pumpkin along with the water into a mixer jar and grind into a smooth puree without adding any water.

Transfer the puree into a mixing bowl. To this bowl, add the grated carrots, idli batter and mix well until combined.

Preheat an idli steamer with water, grease the idli plates generously with oil or ghee.

Pour a ladle full of batter into each of the cavities, place the plates in the steamer and steam for 10-12 minutes.

Insert a greased knife after 12 minutes to check if the Healthy Pumpkin Carrot idlis are steamed. If the knife comes out clean, turn off the flame and remove the idli plates from the steamer.

Now wait for a couple of minutes, before you de mould them.

Drizzle the Healthy Pumpkin Carrot Idli with some ghee and serve piping hot.

Serve Healthy Pumpkin Carrot Idli Recipe along with Coconut Chutney Recipe- For Idli And Dosa, Karnataka Style Ranjaka Recipe (Red Chili Chutney Recipe) and Tomato Upma Recipe for a complete breakfast. Finish off the breakfast with South Indian Filter Coffee Recipe With Filter Coffee Powder