Thai Style Beansprouts & Raw Mango Salad Recipe
Deliciously refreshing summer time salad

Praerna Kartha
On

Tuesday, 21 April 2015 14:00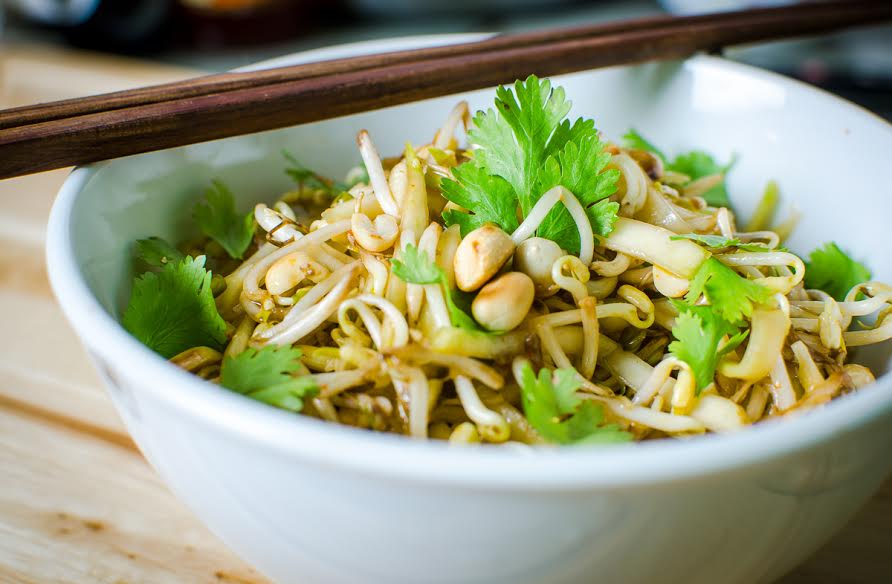 Thai Style Bean Sprouts & Raw Mango Salad is a flavorsome salad that can be enjoyed during the summer season. Sprouts are nutritious foods that are packed with fiber, vitamins and minerals. This recipe of Beansprouts & Raw Mango Salad is made with a combination of raw mango, Green Moong Sprouts, roasted peanuts flavored with lemon juice and chili oil. The brown sugar in the salad gives it the subtle sweetness and lemon adds the required zing to the salad.
Serve Thai Style Beansprouts & Raw Mango Salad along with Vegetarian Thai Red Curry and Steamed Rice for a light weekday lunch.
Other recipes that you can try are:
Ingredients
1

Mango (Raw)

, peeled 
1/4 cup

Roasted Peanuts (Moongphali)

1 cup

Green Moong Sprouts

1 teaspoon

Brown Sugar (Demerara Sugar)

1 pinch

Red chilli powder

Salt

, to taste
2 tablespoons

Soy sauce

1 tablespoon

Chilli oil

, or sesame oil

Lemon juice

, from half a lemon
1

Coriander (Dhania) Leaves

, roughly chopped
How to make Thai Style Beansprouts & Raw Mango Salad Recipe
To prepare the Thai Style Bean Sprouts and Raw Mango Salad, start with peeling the raw mango. Cut it into thin matchsticks or juliennes. You can also use the food processor's grater blade to shred it into thin strips.

Once grated, place the grated mango and bean sprouts in a salad mixing bowl. Sprinkle the sugar, salt and red chili powder over the mango and mix well. Set aside while you prepare the other ingredients for the raw mango salad.

Coarsely crush the roasted peanuts using a mortar and pestle and keep aside in a bowl until required.

To prepare the dressing, in a bowl, whisk the chili oil and lemon juice with a fork for a few seconds, or until all combined well. Add the soy sauce and whisk to combine.

Now add the roasted peanuts and the salad dressing over the raw mangoes and bean sprouts. Toss to combine well.

Stir in the chopped coriander leaves over the salad. Taste and adjust the seasoning accordingly.

Serve Thai Style Beansprouts & Raw Mango Salad along with Vegetarian Thai Red Curry and Steamed Rice for a light weekday lunch.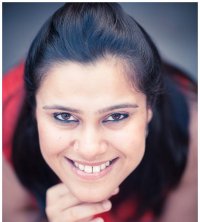 Praerna is an ex-advertising and communication professional with an all-compelling obsession with all things to do with food. Along with her commercial photographer husband, she runs a boutique photography studio called Thoda Strong in the vibrant community of Shahpur Jat in New Delhi. Praerna is a professional food stylist and part time food blogger – and works in collaboration with food photographers and brands to create stunning, marketable and compelling images of food. When she's not up to her elbows in a shoot, she enjoys creating step-by-step recipes, documenting her adventures in food and checking out new places around town in her food blog (http://food-dee-dum.com).