Thai Stir Fried Green Beans Recipe
Sambal sauce stir fried green beans to be served as side dish

Hina Gujral
On

Wednesday, 12 November 2014 05:30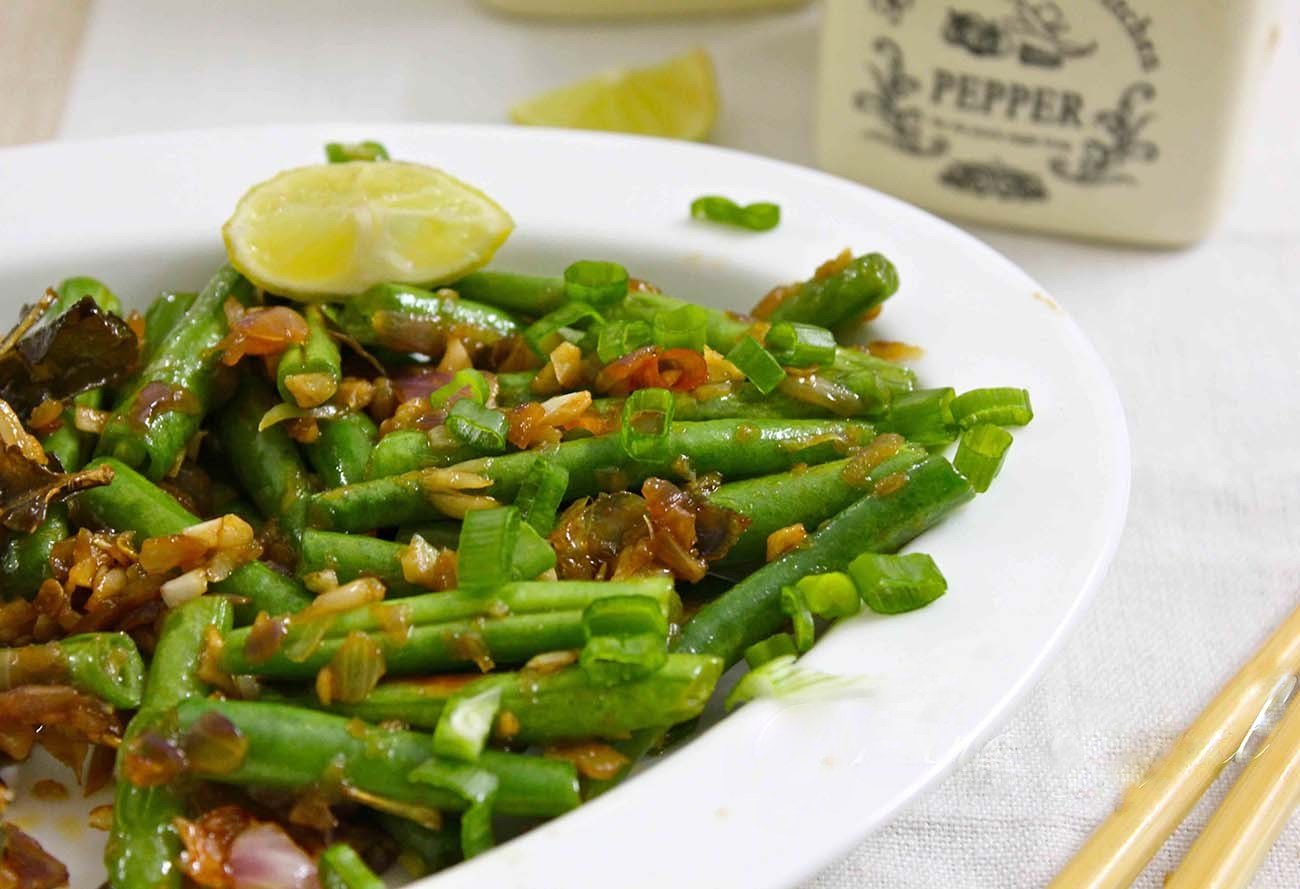 Thai Stir Fried Green Beans is a healthy side dish that can be served along with the Asian Curries. This stir fry beans recipe can also work well as an appetizer for your parties. Green Beans are packed with iron, dietary fibre and vitamins. The stir frying method is a great method to minimize the loss of nutrients, hence making it a healthy snacking option as well.
If you are packing these beans into the lunch box, avoid squeezing the lemon into the beans, instead keep a few wedges of lemons by the side. Squeezing the lemon can discolor the beans and not make it look fresh. Serve Thai Stir Fried Green Beans Recipe alongside Vegetarian Thai Red Curry Recipe and Thai Jasmine Sticky Rice Recipe for a complete meals.
If you like this recipe, try more recipes like
Ingredients
250 gram

Green beans (French Beans)

, halved lengthwise
2 tablespoon

Extra Virgin Olive Oil

1 tablespoon

Sambal paste

1 teaspoon

Dark soy sauce

1 pinch

Brown Sugar (Demerara Sugar)

Salt

, to taste
Ingredients to be finely chopped
1

Onion

3 cloves

Garlic

1 inch

Ginger

, peeled
1

Fresh Red Chilli

, or red bell pepper (to make it less spicy)
2

Kaffir lime leaves

3

Basil leaves

Ingredients to garnish

Spring Onion Greens

, a fistful, chopped
1

Lemon

, juiced
How to make Thai Stir Fried Green Beans Recipe
To begin making Thai Stir Fried Green Beans Recipe, clean, wash and dry green beans. Remove the tip and cut them into half.

In a food chopper or a food processor to finely chop together ingredients mentioned under the heading "To be finely chopped". You can also use a chopping board and a knife to get the ingredients ready.

Next, heat the olive oil in a wok on medium heat; add in the chopped ingredients and saute for a couple of minutes until tender. Next add in the sambal sauce, soy sauce and brown sugar and stir until well combined and you get a light brown color.

Finally add in the beans and stir fry over high heat until beans are al-dente or cooked as per your liking. Adjust the salt and spice levels to suit your taste. Turn off the heat and sprinkle chopped spring onion greens and squeeze the juice from one lemon.

Serve the Thai Stir Fried Green Beans along with your favorite Appetizer for parties.
Note:I personally like to use the food chopper or a food processor to finely chop the ingredients to get fine equal sized consistency.